Environment
Micro Focus Support Portal (portal.microfocus.com)
Resolution
See also Video: Searching Knowledge
What's in the Knowledge Base?
The Knowledge Base on the Support Portal (powered by
IDOL
) includes millions of public documents from various sources:
Community posts, including user discussions and Idea Exchange enhancement requests
Product documentation (manuals) authored by product engineering teams
Knowledge articles (KB/TID) authored by Micro Focus support engineers across multiple systems
Patch descriptions, e.g., service packs applied to products to address issues
Known Problem (defect/Change Request) records for issues reported to product engineering
Security Bulletins/Alerts for product vulnerability fixes and mitigations
Downloads for apps, add-ons, code samples, and utilities (Marketplace and Download2)
White papers, articles, and other marketing resources on www.microfocus.com
Additional sources are also searched for authenticated users that are authorized partners and employees.
Note: Some document types are not available for certain products.
The knowledge base does not include protected (login-required) documentation for certain security products, education/training courses, or video/transcript content.
Do I need to log in?
You are not required to be logged in to search the knowledge base. However, logging in (upper right) is recommended for full access to content that is only available to customers with current support entitlement.
How do I search?
On the
Support Portal
, in the top Search field, enter concept search terms and click the magnifying glass.
OR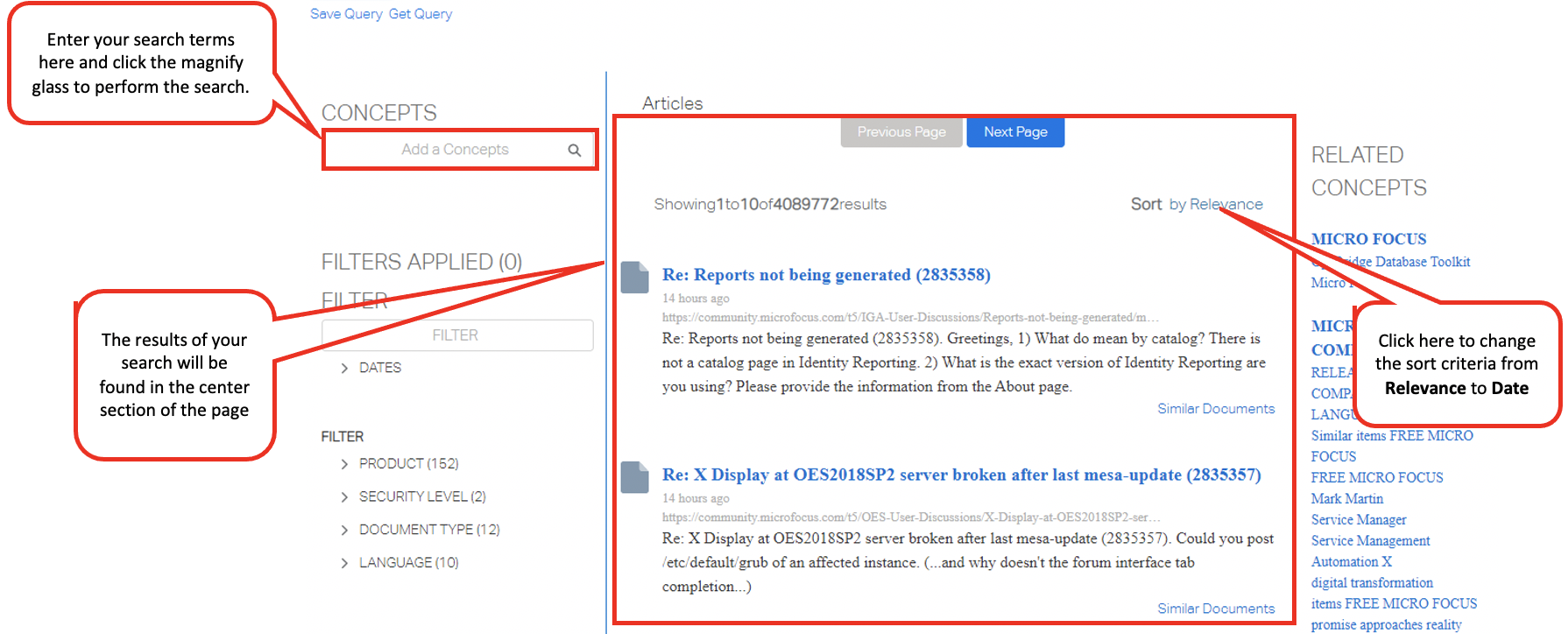 Narrowing your Search
Multiple Concepts and/or Filters can be applied:
Under Concepts, enter search terms and click the magnifying glass.

Boolean logic: Concepts can include AND, OR, NOT. Also, logical OR is achieved with multiple terms in a single concept, and logical AND is equivalent to multiple concepts and/or filters.
Exact phrase, no word stemming: Surround with " (quote characters).
Wildcards: Use ? (question mark) to replace a single character.

Under Filters, you can narrow results based on certain metadata (date, product, document type, etc.). Click the expansion controls, or search the filters using the Filter edit box (especially useful for products).
To remove a Concept or Filter (re-expand your search), click the X.
Navigating Search Results
Results can be sorted by Relevance or Date (newest first).
Click Next Page button to see more results.
Saved Searches
You can save a search to use again in the future:
In the upper left, click Save Query.
In the popup, enter a label name for the query and click Save Query button.
To re-use saved query:
In the upper left, click Get Query to see your saved queries.
Click on the query you wish to perform. Be careful not to click on the X to delete it!
Additional Information