Environment
Reflection X version 14.x
Situation
European font collections are available for Reflection X 14.x. Fonts include Northern, Southern, Eastern and Western European, Baltic Rim, and Cyrillic, and are available as a downloadable ZIP file from the Attachmate Download Library.
Note: This technical note applies to Reflection X only.
Resolution
Obtaining and Installing European Fonts
Follow these steps to obtain and install the fonts.
Download xfree86-iso15-fonts.zip from the Download Library.
For information about using Attachmate's Download Library, see KB 7021965.
Unzip the file; the following three new directories will be created: euro75dpi, euro100dpi, and euromisc.
Add the new directories into the Reflection X fonts directory. By default, the directory is in one of the following locations:
C:\Program Files\Attachmate\Reflection\X

C:\Program Files\Reflection\X

In the Reflection X Manager, click Settings > Fonts.
In the Font Settings dialog box, click Add.
In the Add/Modify Font Path Element dialog box, choose X fonts and click Browse.
Select the euro75dpi folder, then the fonts.dir file within it, and click Apply.
Click Browse again, select the euro100dpi folder, the fonts.dir file, and click Apply. Then, click Browse again, select euromisc, the fonts.dir file, and Apply.
The new font path should have the following new entries at the top.
euro75dpi
euro100dpi
euromisc

You can verify them by pausing your mouse over the font path entries, which will produce a tool tip.
View Full Size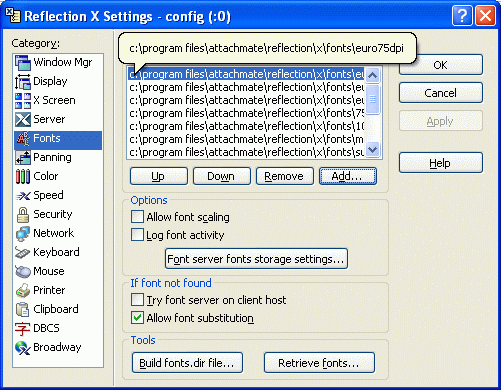 Click OK. The new fonts are now be available.
Note: If the tooltips do not appear, close and launch Reflection X again.
Additional Information
Legacy KB ID
This document was originally published as Attachmate Technical Note 2320.