Environment
Novell ZENworks 11 Configuration Management Support Pack 1 - ZCM 11 SP1
Novell ZENworks 11 Configuration Management Support Pack 2 - ZCM 11 SP2
Situation
RDP sessions from a Windows 7 device to a Windows 2008 or Windows 7 device may crash randomly.
Using copy or paste may be a trigger
Not duplicated when the device launching the RDP session is a virtual machine
Event log shows something similar to:
Log Name: Application
Source: Application Error
Date: 19/10/2011 10:04:54
Event ID: 1000
Task Category: (100)
Level: Error
Keywords: Classic
User: N/A
Computer: [name]
Description:
Faulting application name: mstsc.exe, version: 6.1.7601.17514, time stamp: 0x4ce7ab44
Faulting module name: unknown, version: 0.0.0.0, time stamp: 0x00000000
Resolution
Workaround: if it is not possible to upgrade to 11.2 at this time, in the interim, Novell has made a Patch available for testing, in the form of a Field Test File (FTF): it can be obtained at
https://download.novell.com/Download?buildid=27T5PItrmO8~
as "ZCM 11.1 fix for RDP session crash - see TID 7009593". This Patch should only be applied if the symptoms above are being experienced, and are causing problems.
This Patch has had limited testing, and should not be used in a production system without first being checked in a test environment. Some Patches have specific requirements for deployment, it is very important to follow any instructions in the readme at the download site. Please report any problems encountered when using this Patch, by using the feedback link on this TID.
Workaround:
1) On the device that is launching the RDP session, in the registry, change (or create if it does not exist) the DWORD
HKLM\SOFTWARE\Novell\Authentication
, "
EnableStatusMessages
" and set the value data to "
0
" as seen in the documentation "
Disabling the Login Status Messages Display on the Device Screen
" at
https://www.novell.com/documentation/zenworks11/zen11_system_admin/data/bbtsocd.html#btwuk3b
or
2) Alternative workaround: On the target device, run
tsconfig.msc
, right-click on "
RDP-Tcp
" in "
Connections
" and choose "
Properties
".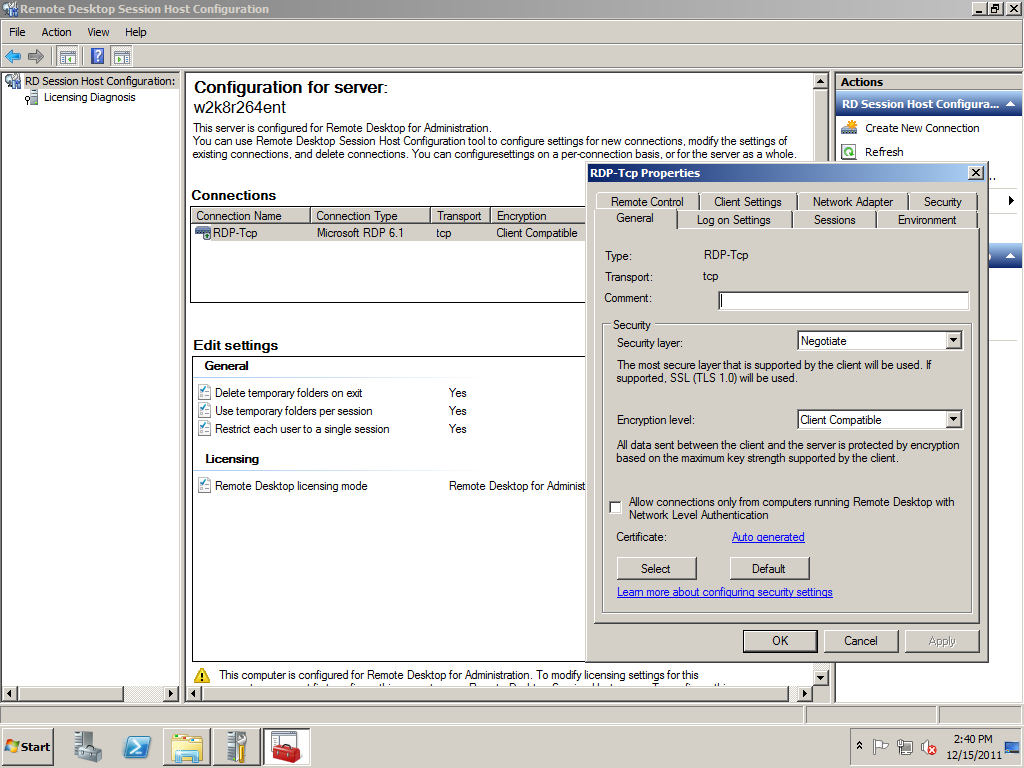 Change "
Security layer
" from "
Negotiate
" to "RDP Security Layer", then click "OK" - see
http://technet.microsoft.com/en-us/library/cc781085%28WS.10%29.aspx
(W2K3) and
http://technet.microsoft.com/en-us/library/cc770833.aspx
(W2K8) for information about the various security levels; any changes to security should be understood before deployment.
or
3) Alternative workaround: if the User Management component of the ZCM agent is uninstalled from the device that starts the remote session, the problem does not occur. This would mean that user-assigned bundles and policies would not be available on this device.
See
https://www.novell.com/documentation/zenworks11/zen11_system_admin/data/bebfppq.html
Additional Information