Environment
Novell ZENworks 10 Configuration Management with Support Pack 2 - 10.2 Migration
Novell ZENworks for Desktops 4.0.1 - ZfD4.0.1
Novell ZENworks 6.5 Desktop Management Support Pack 2 - ZDM6.5 SP2
Novell ZENworks 7 Desktop Management Support Pack 1 - ZDM7 SP1

Situation
Application has Availability set for Windows 98, in Legacy settings or Distribution rules.

Migrated bundle shows System Requirement for NT (>= 4.0)
Migrated bundle shows 2 System Requirements the same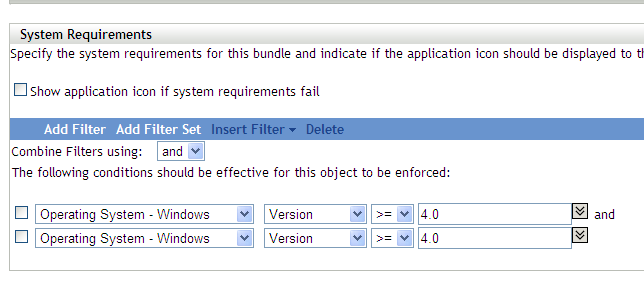 Resolution
This is fixed in version 10.2.2 - see
KB 7004803
"ZENworks 10 Configuration Management 10.2.2 - update information and list of fixes" which can be found at
https://www.novell.com/support
Workaround:
either delete the Windows 98 requirement before migration, or delete the surplus requirement after migration
Additional Information
The migration utility is migrating the Windows 98 requirement as a requirement for NT.
Migrating an application with default legacy settings results in 2 System Requirements joined by "
and
": if the Legacy settings are imported, the two requirements are joined by "
or
"