Environment
Novell ZENworks 10 Configuration Management with Support Pack 1 - 10.1
Novell Open Enterprise Server 2 (OES 2)

Situation
XP workstation cannot run ZCM bundles or policies.
Registration fails after ZCM agent is installed if Inventory Only agent was previously installed
Workstation is unable to automatically register into the zone.
If zac reg command is run manually the following error occurs:
ERROR: Unable to register with the server at:
https://zcmserver.com
. Unexpected server result. Server code: -999. Server message ZZZ: null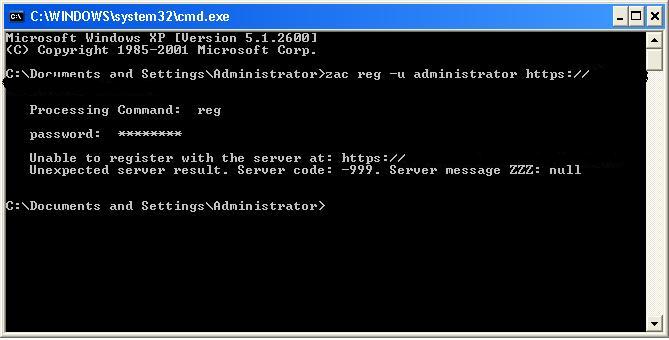 Resolution
Additional Information
Error happens on workstations that have had the Inventory Only agent ZENworks_Adaptive_Agent_Windows.exe installed on them and then the default ZCM agent is installed on the same machine.