Summary
This article describes how to obtain an ICA file through Citrix Web Interface.
Question
How to obtain the ICA file for the published Citrix application
Answer
In Web Interface versions earlier than 4.5, the ICA file contents can be obtained using Internet Explorer by using the Save Target As… option when using a link in the applications page (or a similar operation in other Web browsers). When using Web Interface 4.5 or later versions, this operation no longer results in the ICA file being downloaded.
For Web Interface 4.5 or above, please try following steps
1 login the Citrix Web Interface
2 launch Fiddler and capture the requests on the Citrix client machine
3 click the link of the published Citrix appliction in the Citrix Web Interface
4 Go back to the Fiddler and find the URL contains "launch.ica"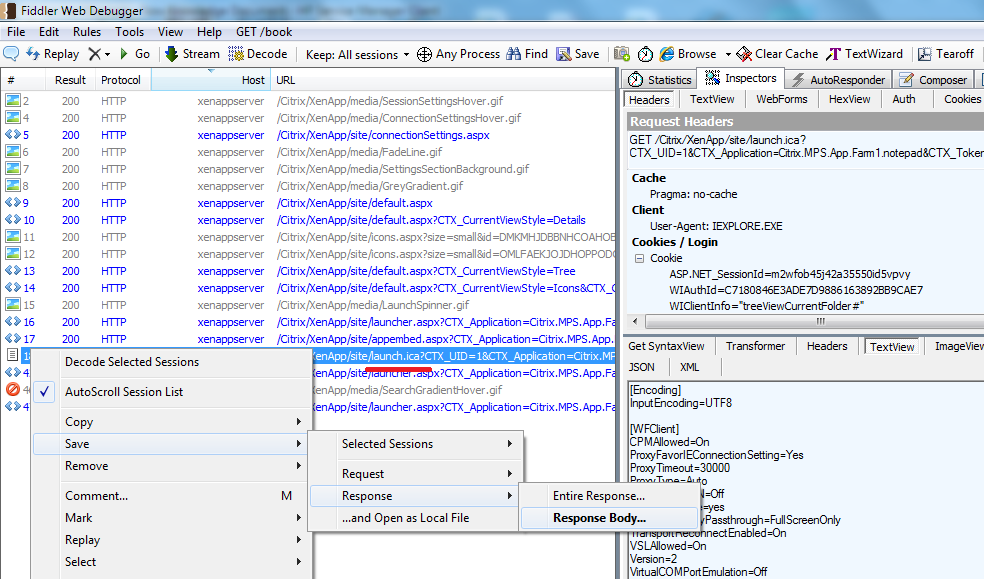 5 Right click the above URL->save->save response->response body
6 Edit the ICA file saved at step5, remove "RemoveICAFile=yes", otherwise the ICA file will be removed once you close the Citrix application launched by using the ICA file and disconnect with the Citrix server.