Environment
PlateSpin Migrate
PlateSpin Protect

Situation
This article provides information on how to configure a VM created from an Incrememtal conversion job to use data volumes that exist on external storage (i.e. SAN).
In order to map data volume(s) that exist on external storage to a VM that was created from an incremental conversion job, the user will need to attach the external storage prior to the VM being restored. Once the VM has been restored, a drive letter will need to be assigned to the VM.
EXAMPLE:
A user has a source machine with a local system volume and a data volume on external storage and wishes to convert this source to a VMware Infrastructure 3 Server: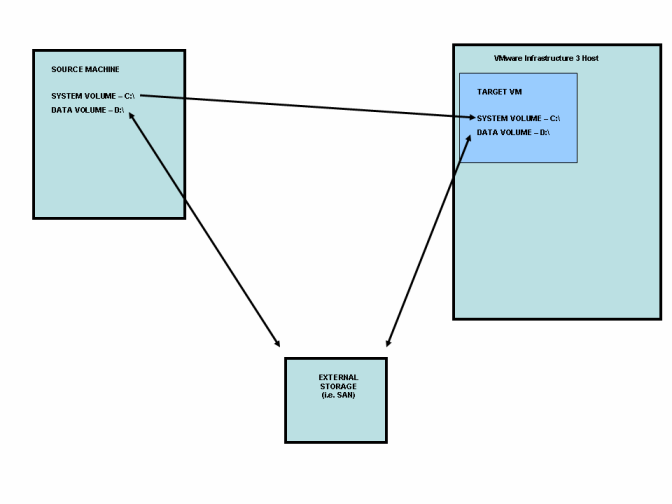 Resolution
In this particular scenario, the steps to map the data volume on the external storage would be as follows:
Configure and run the P2V incremental job with ONLY the SYSTEM VOLUME (C:\) selected
Once incremental job completes, modify the created target VM by logging into the VMware Infrastructure 3 Server with the VMware Infrastructure client. Edit the VM by adding a new disk using Raw device mapping. Do not start the VM.
Allow the incremental jobs to continue running as desired
When restoring the target VM (or performing a test restore) - after the job completes, log into the VM, go to the Windows Disk Management utility and manually assign a drive letter to the data volume that was attached in step 2 above.
Additional Information