Environment
Situation
When attempting to activate PowerRecon, the activation fails with the following error: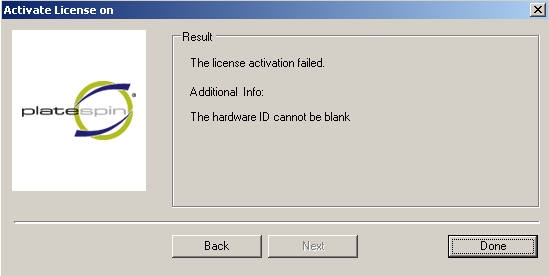 Applies to: PowerRecon 2.x and higher
The above error can occur if one or more of the following is true:
The PowerRecon Server is not completely installed.
Incorrect http port was specified during the install (For example: IIS is using a non default port of 8000 and port 80 was specified during the install).
The WMI and RPC Services are not enabled on the PowerRecon Server.
PowerRecon cannot connect to the MSDE/SQL Server database files.
Resolution
To resolve the issue, change the status of ASP.NET v2.0 web service extension in IIS from "Prohibited" to "Allowed".

Check the properties of Default Website in IIS management console for the port being used to listen for http connections. If this is not

By default the PostgreSQL Database Server 8.2 service runs under the user account "PowerRecon" which is created during install. Please ensure that this service is running and that the account is included in the "Log on as a service" security policy: