Environment
PlateSpin Migrate, Protect, or Forge used to discover source Windows workloads.
Situation
"Network Path not found" error returned during the discovery process: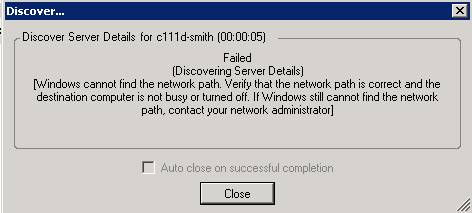 This error is likely to occur if the Remote Registry Service has not been started or if the Administrative shares (i.e. \\<server>\c$ ) are not enabled on the server being discovered.
Resolution
To resolve the issue, restart the Remote Registry Service, ensure that File and Print Sharing is enabled on the machine being discovered and ensure that the Administrative shares are enabled on the server being discovered. For more information on how to enable Administrative shares, please see Microsoft KB Article 842715.
For additional tips on troubleshooting the PowerConvert discovery process, please see TID 7920291.