Environment
PlateSpin Migrate or Protect with a Windows source server performing a Take Control conversion.

Situation
During the Take Control of Source Machine stage of the conversion, an error similar to the following error may appear: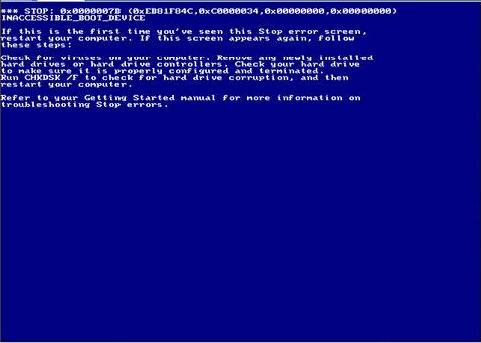 The above error indicates that the PlateSpin Image that Portability Suite used to take control of the source machine does not contain proper SCSI controller driver support for the source machine.
The PowerConvert Server will display the following error messages during the Take Control of Source Machine step:
Waiting for Controller to start(Failed)
Controller is not heart-beating to the server; it may not be started, or may not have network connectivity...
Resolution
Please make sure that the firmware level of the SCSI controller and the BIOS level of the source machine are the latest versions available by contacting your hardware vendors.
If you are using the latest BIOS and Firmware levels please contact PlateSpin support with the following information:
Exact Make and Model of the SCSI controller on your source machine
The BIOS level and Firmware level of the SCSI controller
The Windows 2003/XP drivers for your SCSI controller
The version of Portability Suite you are using
Missing Mass Storage Controller Drivers Workaround:
It is possible to resolve a missing Mass Storage Controller without the use of an updated Take Control Image from PlateSpin but this workaround requires physical access to the server and the server must have a floppy drive.
Download the drivers for the Mass Storage Controller (must be for Windows 2003 OS)
Place the files on a floppy (if the drivers were downloaded as an executable, please extract the required files (.e.g. INF and SYS files) to the floppy disk)
Wait for the server to boot into PlateSpin boot image and click F6 when prompt (the boot screen with vertical lines)
Follow the installation and install the drivers from the floppy
The server will continue to load PlateSpin boot image and the conversion job will continue
If you have questions about this article please contact PlateSpin Support at support.powerconvert@platespin.com