Environment
PlateSpin Migrate - All versions
PlateSpin Protect - All versions
PlateSpin Forge - All versions
Situation
When performing a conversion, the job fails during the File copy step with the following error:
Not all volumes are available. Copy cannot begin.
Resolution
The following error may occurr in following the following scenarios:
1. The source server contains volumes which do not have the SYSTEM account added in the NTFS permissions:
1. Right click on the drive on your source server
2. Click on the Security Tab
3. Add the Local System account and ensure that it has full permissions:
4. Repeat steps 1-3 above on each of the volumes that are included in the job, then re-run the job
2. A source machine that is being protected via a Synchronization Schedule (i.e. incremental conversions) has a hard drive that has been upgraded or replaced:

In this particular scenario, users will need to cancel the existing synchronization schedule and then setup a new one with the source machine.

3. A vendor partition has been selected to be copied during the conversion process:
When performing a physical to virtual conversion, selecting vendor partitions is NOT recommended. Vendor partitions are specific to the physical source server's hardware and is not required for the target virtual machine.
To prevent this error from occurring, ensure that the vendor partition is not selected when configuring the conversion.
NOTE: Caution is required when determining vendor partitions; as partitions mounted as folders can also appear as a vendor partition (see screenshots below). Please contact your hardware vendor if you are uncertain whether your physical source server contains a vendor partition.

Example of Formatted Vendor Partition: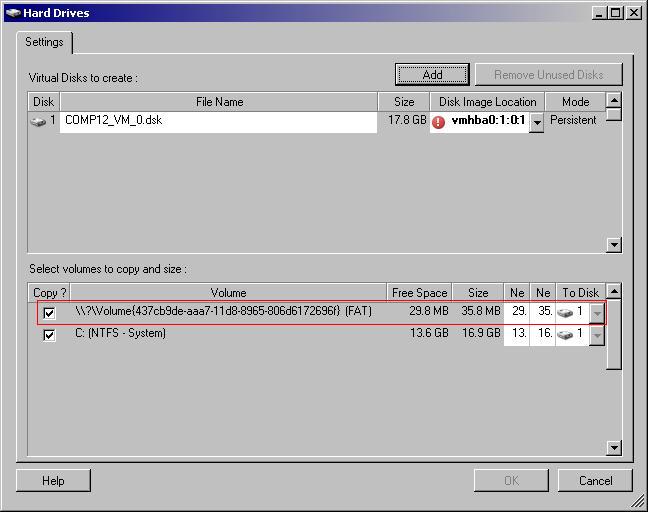 Example of a Partition Mounted as a folder:

NOTE: This error may also occur if a SAN drive or FBA controller drivers are not included in PlateSpin's Take Control image, please contact PlateSpin Support for more information.
4. A concatenated partition controlled by Veritas Volume Manager for regular backup selected to be copied during the Take Control conversion process:
When performing a physical to virtual (or a P2P) take control conversion, selecting the concatenated partitions is NOT recommended. These partitions/drives are controlled by Veritas Volume Manager and needs the veritas services to recognize these partitions/drives. Through WinPE these partitions cannot be recognized. Hence the workaround to overcome this issue is to perform a Live conversion.
Missing Mass Storage Controller Drivers Workaround:
It is possible to resolve a missing Mass Storage Controller without the use of an updated Take Control Image from PlateSpin but this workaround requires physical access to the server and the server must have a floppy drive.
Download the drivers for the Mass Storage Controller (must be for Windows 2003 OS)
Place the files on a floppy (if the drivers were downloaded as an executable, please extract the required files (.e.g. INF and SYS files) to the floppy disk)
Wait for the server to boot into PlateSpin boot image and click F6 when prompt (the boot screen with vertical lines)
Follow the installation and install the drivers from the floppy
The server will continue to load PlateSpin boot image and the conversion job will continue