Environment
GroupWise 18

Situation
In the GroupWise Admin Console | System | LDAP Servers | Directory properties | The Test Connection is always Successful.
On the GroupWise client, the user is seeing: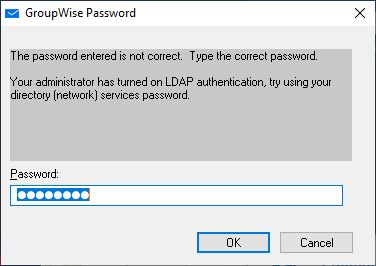 In the verbose POA log, seeing the following:
23:42:49 997F Error: Invalid password [D019] User: TestUser1 (TestUser1)
23:42:53 997F Initializing LDAP session with 192.168.1.1 at port 389 (TestUser1)
23:42:57 997F LDAP Error: 49 returned from novell_tree (TestUser1)
23:42:57 997F LDAP Error: Invalid credentials CN= cn=admin,o=novell Extended Error=NDS error: failed authentication (-669) (TestUser1)
Resolution
The Test Connection button only tests to see if LDAP is listening on the specified IP Address and port number. It does not test the LDAP Account Credentials.
Under the General tab and the LDAP Authentication tab, ensure that the LDAP User account name, context and password are correct. If a modification is made, restart the POA before testing user authentication again.