Environment
ZENworks Configuration Management 2020 Bundles
ZENworks Configuration Management 2017 Update 4 Bundles
ZENworks Configuration Management 2017 Update 3 Bundles
ZENworks Configuration Management 2017 Update 2 Bundles
ZENworks Configuration Management 2017 Update 1 Bundles
ZENworks Configuration Management 2017 Bundles

Situation
ZENworks Configuration Management supports the ability to send Configuration and Provisioning Profiles to iOS devices. Provisioning Profiles allow for the installation of enterprise or developer applications to be used on iOS devices. Configuration Profiles allow configuration settings that are exported from Apple Configurator to be applied to managed iOS devices. Configuration Profiles may be used for settings that are not yet available within ZENworks directly but can be created within Configurator and then pushed out and managed via ZENworks.

Resolution
In this example, a Wi-Fi configuration profile will be created within Apple Configurator 2 and assigned to a device through ZENworks.
On a Mac running Apple Configurator 2 select File then New Profile.
Select the type of profile desired, in this example, a Wi-Fi network is being created.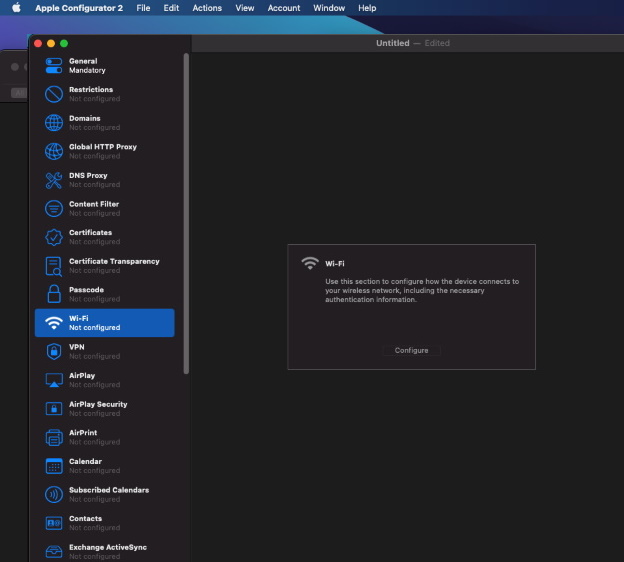 Select Configure for the type of profile in question and fill in the necessary information.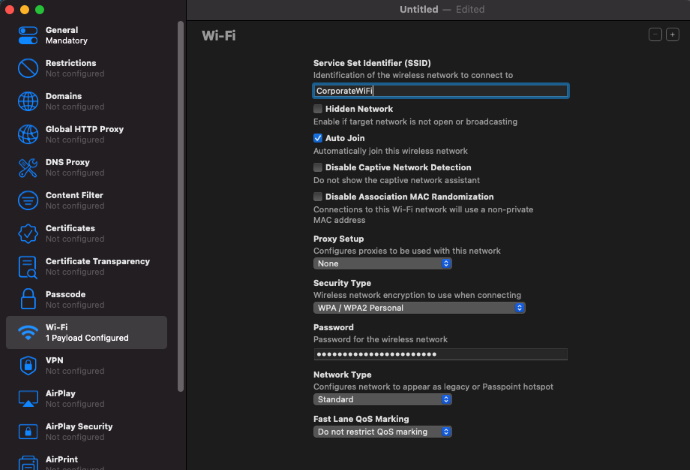 Once all of the necessary information as been defined select File then Save.

Name the file to identify it properly. The extension will be .mobileconfig.

In this example, CorporateWifi.mobileconfig has been created.
Next, a new bundle can be created within ZCC to distribute this profile to mobile devices.

Create a New Bundle with type "iOS/iPadOS Bundle".


Then choose "iOS/iPadOS Profile" and name the bundle.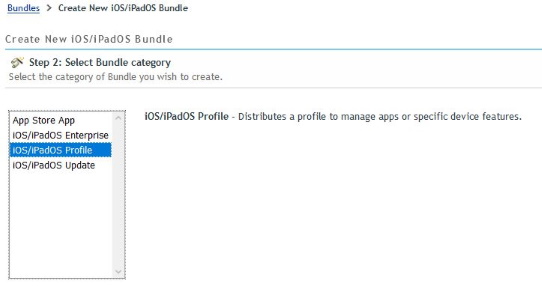 The type of profile in this situation would be "Configuration Profile".

Then import the mobileconfig file that was saved from Apple Configurator 2.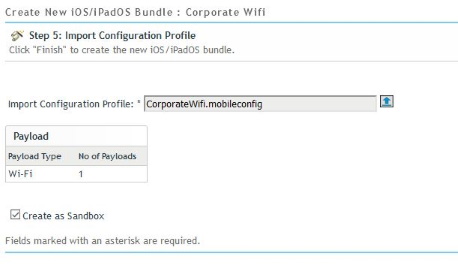 Depending upon the type of bundle that was created, there may be additional properties available to define within the settings of the bundle itself. Once the bundle is created, it can be distributed to devices in the same manner as any other mobile bundle.