Environment
Desktop Containers (ZENworks Application Virtualization)

Situation
Ability to add login while installing plug-in to server through the settings.ini file.
The server option syntax parameter located in the Additional Notes below.

Resolution
Currently, there is no way to set anonymous login as the default via a flag for the client installer.

However, you may deploy a custom settings.ini file in the user's profile at

%LOCALAPPDATA%\Turbo\Client\settings.ini with the anonymous setting enabled: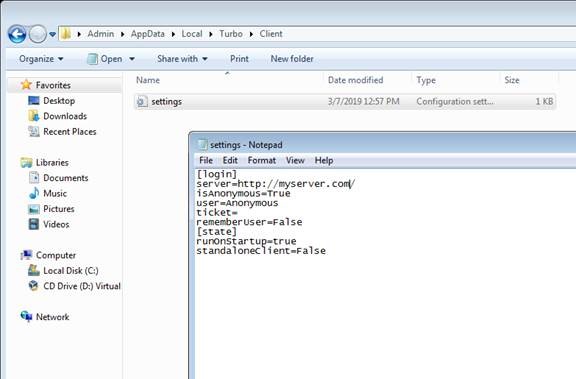 Additional Information
To specify the default server parameter in the turbo-plugin.exe:
C:\> Turbo-Plugin.exe --server="http://myserver.com"
Note that the equals sign is required for this flag.