Environment
Client Login Extension
CLE 4.2
"Tile" option enabled
Situation
Desired bmp image does not show after enabling CLE Tile
Picture specified in CLE configuration does not appear
Resolution
In the CLE Configuration utility, choose "Advanced," and select "Enable CLE Tile on the login screen." Then add the desired text and the full path to the desired bmp. (Including file name and .bmp extension.)
Make sure the desired image a bmp image, is 128x128 pixels, and is located on the local computer (not on a network drive).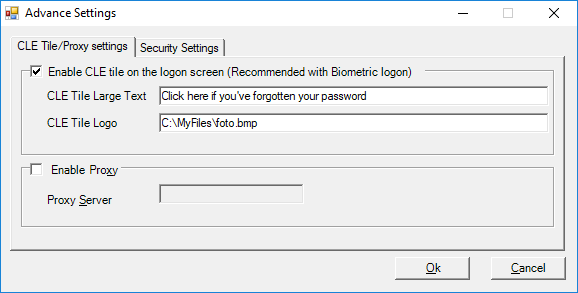 Additional Information
The additional Win10 authentication options, such as PIN, are all credential providers. CLE is also a credential provider and (by design) when installed takes precedence over the current credential provider. To leave the current credential provider in place, use the "Enable CLE Tile" option under "Advanced Options" in the CLE configuration utility. This allows CLE to co-exist with other credential providers on the workstation, and allows users to access the CLE features (e.g. changing a forgotten password) by selecting the CLE tile.