Environment
Micro Focus iPrint Appliance 3.1

Situation
The following message appears when attempting to install an iPrint printer from the iPrint Portal page. Note: With iPrint Appliance 3.1, the iPrint Portal page is the default printer install page.
iPrint Client Required
Before installing the printer, you must download and install the iPrint Client. After installing the client, close and open the browser, then install the printer.
[Download] [Cancel]

On top of that message, the following message is displayed:
The Printer is not Installed
Select Printer: <printer name>
Do You Want to Install It Now?
[Yes] [No]



The printer will successfully install. However, when attempting to install a 2nd printer, only the "iPrint Client Required" message is presented. There is no opportunity to install a 2nd printer.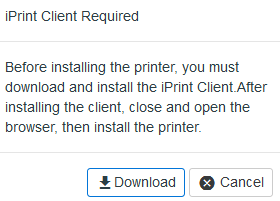 Resolution
Open a Service Request with Micro Focus Support. A fix will be given to you and the SR will be closed as NO CHARGE.
Workaround 1:
Shut down the browser, re-open the browser, and install the 2nd printer.
Workaround 2:
The iPrint Appliance 3.1 includes a script which will cause the traditional /ipp page to load instead of redirecting to the newer iPrint Portal page. See
TID 7022057
.
Additional Information
This problem has been observed with Mac and Windows.