Environment
Reflection X Advantage
Reflection X version 14.x
Situation
Reflection X Advantage does not yet* support the Gnome 3 desktop which has become the default in some Linux distributions such as RHEL 7.0 and OpenSUSE 12.1. Attempting to run a Gnome 3 desktop with Reflection X Advantage will result in a message like the following: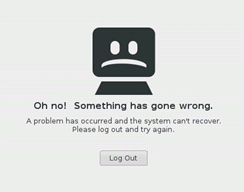 *Note as of November 2019: Micro Focus is planning for the next major release of Reflection X Advantage to support the Gnome 3 desktop. A pre-release build is currently available for test purposes only. If you would like to try the pre-release build with your custom and critical X clients, as well as provide feedback for the product team, please email support2@microfocus.com.
Resolution
To connect to a host that uses Gnome 3 by default, you can run a non-default Linux desktop such as KDE, or run X clients without a Linux desktop.
Running a non-default Linux Desktop
KDE is one example of an alternate Linux desktop which you can run. It is installed by default on Red Hat 7, and you can launch it with the command startkde. KDE is not installed by default on OpenSUSE 12; however, it can be downloaded and installed.

Here are steps to launch KDE on RedHat7 using Reflection X Advantage:
Click the green plus sign in the X Clients connection section on the left toolbar of the X Manager window.
For Name, enter a descriptive name for this client definition such as "K Desktop".
For host name, enter your host name or IP address.
Select Linux as your host type from the drop-down list.
For application, select Single Command.
For command, select startkde from the drop-down list.
For Default Session, select X Terminal Desktop.
Right-click the new X client definition and select Start.
The K desktop should then appear, and might take a minute to complete.
Running without a Linux desktop
Another option is to launch X clients by command line, as opposed to through a graphical Linux desktop. There are two options for managing the windows, either using the local Reflection Window Manager, or using a remote window manager such as motif or metacity.

To use the Reflection Window Manager, simply run your session with the setting 'Show clients on my desktop'. The Reflection Window Manager will automatically manage any all X clients ran for your session.
To use a remote window manager, run your session with the setting 'Show clients on X terminal desktop', and then run the command to launch the remote window manager of your choice.
Here is an example to run the motif window manager:
Run the following command to launch an xterm: (/usr/bin/xterm -fn 6x13 -sb -ls -display %IP#% &)
In the xterm window, enter the following command: mwm &
Additional Information
For information about using Reflection X to make XDMCP connections to Red Hat Linux 7.0 or higher, see KB 7021775.
Legacy KB ID
This document was originally published as Attachmate Technical Note 2863.