Environment
Extra! X-treme version 9.2 SP1 or higher
InfoConnect Enterprise Edition version 9.1 or higher
Reflection for Secure IT Windows Client version 7.2 or higher
Reflection for IBM version 14.x
Reflection for UNIX and OpenVMS version 14.x
Reflection for HP with NS/VT version 14.x
Reflection X version 14.x
Situation
The Help files for your product may not display when running on newer Microsoft Windows platforms. When attempting to access the product help, you may see a message similar to the following: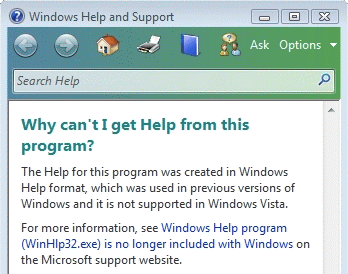 Resolution
To view the help files, you can download and install WinHlp32.exe from the Microsoft Download Center. The downloads support 32-bit and 64-bit editions.
For more information, see the Microsoft article at http://support.microsoft.com/kb/917607.
Enabling Macros
After you install the Windows Help support, you will be able to view the application help; however, some functionality will be missing because WinHelp macros are no longer enabled by default.
Although you can view the help without enabling these macros, you may encounter the following error message:
"There was a problem running the macro. (1037)"
Note: Both Reflection and EXTRA! help files use macros to provide a double-pane window display. This display is not available unless you enable macros.
To enable full macro support on a single computer, you can either download a file from Microsoft or edit the registry:
Download and run "Microsoft Fix it: 50105"
Open the Microsoft article, http://support.microsoft.com/kb/917607.
Expand the section titled On This Page.
Review the information under the heading "How to enable macros ...."
Follow the instructions provided in this section of the article to download and run "Microsoft Fix it: 50105."
Edit the registry
Or, you can configure your system to support macros by manually editing the Windows registry. This procedure is outlined below, and is also described in the Microsoft article.
Note: Use extreme caution when editing the Windows registry.
Create the following new subkey.
HKEY_LOCAL_MACHINE\SOFTWARE\Microsoft\WinHelp

HKEY_LOCAL_MACHINE\SOFTWARE\WOW6432node\Microsoft\WinHelp

In the new subkey, add a DWORD value named AllowProgrammaticMacros.
Set the value for AllowProgrammaticMacros to 1.
Note: Alternatively, this functionality can be enabled by creating and importing a .reg file.
For more information, see the Microsoft article at http://support.microsoft.com/kb/917607.
Alternative Solutions
If WinHlp32.exe is not available for your platform, consider the following alternatives:
Install the Reflection 14.x, Extra!, or InfoConnect 9.x product on a supported operating system or virtual machine that has Microsoft WinHelp support.
Migrate to newer products (such as Reflection 2014 or Reflection X Advantage) that are designed for use on newer platforms.
View the product documentation available on the support website instead (https://support.microfocus.com/manuals/).
Cause
The Attachmate products and versions (listed in the Applies To section above) provide application help in the WinHelp (*.hlp) format. Beginning with Windows Vista, the Windows Help program (WinHlp32.exe) is no longer included with Windows. Microsoft prohibits redistribution of the Windows Help program.
Additional Information
Legacy KB ID
This document was originally published as Attachmate Technical Note 2294.