Environment

Vertigo (all builds)


Situation
How do I check the size of a user's mailbox?
Resolution
Use Vertigo to check size of a individual's mailbox.
1) Open Vertigo and connect to your GroupWise system.
2) Select the the user's mailbox that you would like to view the size.
3) Click on the "Environment" tab. Then below, click on the "Mailbox Size" tab.
Note: As it states in the warning message, this is an intensive Post Office scan. Please use with discretion.

4) Collecting the user's information might take a while, depending on the size of the mailbox. After it's finished, it will come back with the information as seen below: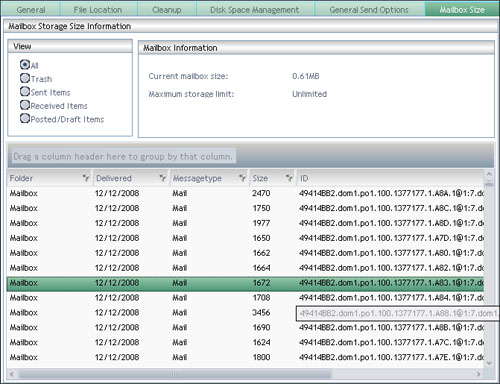 Note: You won't be able to see the contents of the message.


5) You can also sort to see different types of messages.
Additional Information
This article was originally published in the GWAVA knowledgebase as article ID 1022.