Environment

GWAVA 4 on NetWare or Linux


Situation
I'm running GWAVA 4, but I keep seeing references to GWAVA 4.5. How do I update to GWAVA 4.5?
Resolution
Users with valid licenses for GWAVA 4 can update to GWAVA 4.5 by using the online updater in the GWAVA Web Interface.
Login to GWAVAMAN Webpage and go to the online updater and go to System Management. Click "online updates" and begin the update. When prompted restart GWAVA. You should now be on running version 4.5.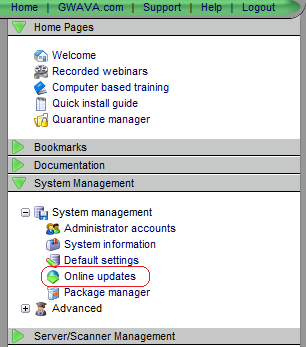 Additional Information
This article was originally published in the GWAVA knowledgebase as article ID 1455.