Environment

Redline 3.1.1. build 961+


Situation
How to Configure Scheduled Report Cleanup
Resolution
How do I clean up old Scheduled Reports?
There are excessive amounts of files/folders in the /opt/beginfinite/redline/db/reports folder.
Redline 3.1.1 version 961 and above has a new Scheduled Report Cleanup function. This will remove the folders for the generated reports automatically during the cleanup process. It is a global scope. This means that the number of days to retain reports applies to ALL reports and not just one or two. For example, it there is a monthly report that you would want to view 6 months later, the cleanup days would need to be 180 or higher.
To configure the report cleanup option do the following:
Login to the Redline Control Center Web Interface and select Reports, [left side] Scheduler, and Configure Scheduler.
Enable the cleanup option by checking the box.
Enter the number of days to retain the reports.

NOTE: All reports beyond this amount of days will be deleted during nightly maintenance.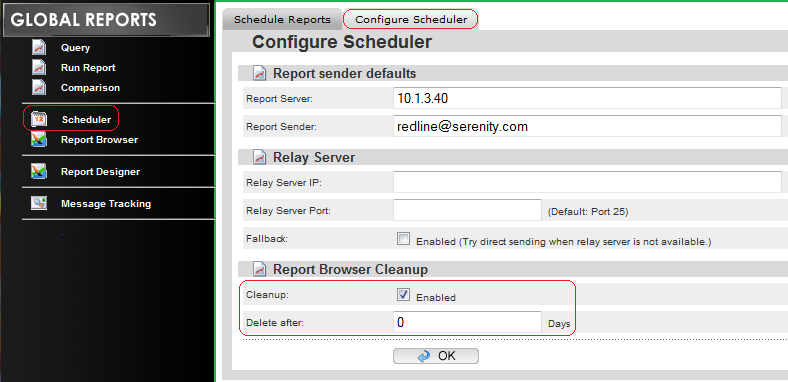 Additional Information
This article was originally published in the GWAVA knowledgebase as article ID 1409.