Environment

Retain (All versions)
GroupWise 8.0x +


Situation
What does "Mark Emails as Archived" do?
Resolution
In the Core Settings under the Profile section in the Retain Interface is an Archive Marked section. An option can be checked to mark emails as they are archived.

This adds a column to the GroupWise client (must be 8.01 or above) to show whether the message has been archived by Retain. The column is created by Retain after the Mark emails as archived is checked and a job is run.

However, the column does not show up automatically in the GroupWise client. To add the column:
1) Restart GroupWise Client after the job is finished with Retain.

2) Right Click on any of the columns (i.e. From, Subject, Date) and click on More Columns

3) Scroll down the available columns and look for RetainArchived. Select it, Click <<Add >> then Click Ok.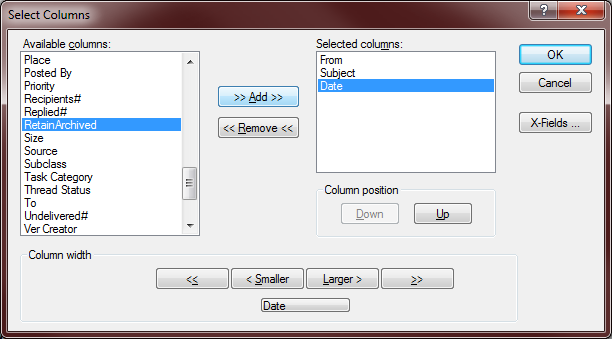 This will show the RetainArchived column and will show a 1 if the message has been archived, or a 0 if the message has not been archived.

Additional Information
This article was originally published in the GWAVA knowledgebase as article ID 2070.