Environment

Gwava 4.5 prior to build 126.


Situation
Outgoing mail connection fails and returns:
"The message that you sent was undeliverable to the following
: <emailaddress@domain.com>
(550 Forged IP detected in HELO - 0.0.0.0 !=<your IP>)"
Resolution
In GWAVA 4 the default setting for the TCP/IP bind address is set to 0.0.0.0, which can cause problems with some network setups, especially clusters.
The menu where you can change the setting can be found in the management console under
"Server Management" -> [Server name] -> "Manage Scanners" -> "SMTP scanner" -> "Configure SMTP Settings" -> "Mail I
nterf
ace settings"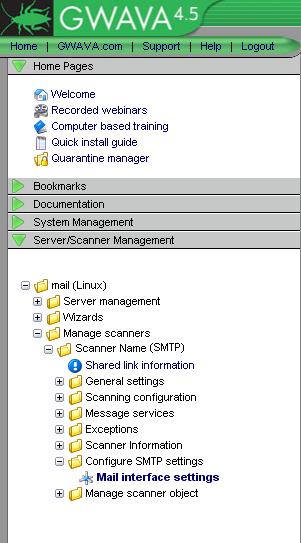 You should see the following screen after navigating to "Mail Interface Settings."



Change the setting circled in red to the IP address that GWAVA listens on. You may use your internal or external IP depending on the needs of your network. In some cases you may want to put your domain name here, you'll need to make sure that the DNS resolves the name correctly first.

Additional Information
This article was originally published in the GWAVA knowledgebase as article ID 1652.