Environment

Reveal 2.0.9.0+
GroupWise 2012


Situation
How do you create a trusted application key with Reveal
Resolution
1) Open up ConsoleOne
2) Log into Primary Domain
3) Select Primary Doman
4) Click on Tools | GroupWise System Operations | Trusted Applications
5) Create a new Trusted Application and call it Reveal.
Select a location to save the file.
Give the file a name (i.e. revealtapp.txt)
Click Ok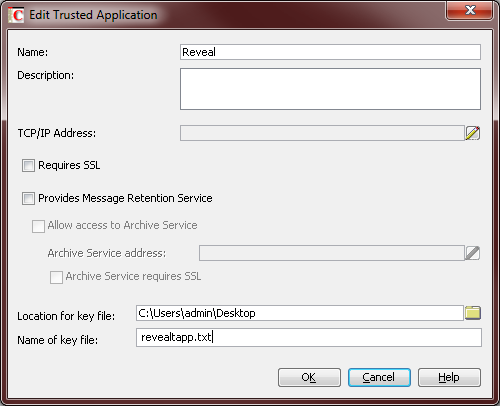 6) Open up Reveal Trusted Application Configuration Tool
7) Select location of Primary Domain
7) Enter in the name of the Reveal Trusted Application Name (same name that was entered into ConsoleOne)
8) Paste the Trusted Application Key from the text file that was created.
9) Click Create
This will automatically create a reveal.ini file with the encrypted Trusted Application Name and Key so that Reveal can connect up to the GroupWise system. The reveal.ini file is found in domain directory
Additional Information
This article was originally published in the GWAVA knowledgebase as article ID 2054.