Environment

GWAVA
Situation
I have an email that was quarantined for Oversize. I don't want to release it or forward it because of it's size. How can I get the attachment from the quarantined message, without releasing it?
Resolution
In order to get an attachment from a quarantined message without releasing it, do the following:
1) Find the quarantined mime file by:
a) Open the message up in the QMS, by clicking on the subject
b) Click on the properties tab
c) Under Core | Container Path, you'll see the path to the mime file. It should look something like: 2015/12/11/11/1b6m4pv.1b6m4q3.msg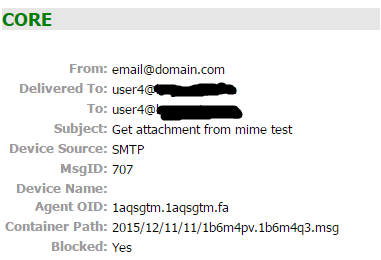 d) Get a copy of that .msg file. The container path starts in ...gwava/services/qms/data/storage.
2) Change the file extension from .msg to .eml.
3) Open it with Outlook or Groupwise client and download the attachment from there.
Additional Information
This article was originally published in the GWAVA knowledgebase as article ID 2676.