Environment
NetIQ Identity Manager 4.5

Situation
On a linux box in a terminal session, the command dxcmd is ran. The user then authenticates, and receives the following error: novell.jclient.JCException: connet (to address) 111 UNKNOWN ERROR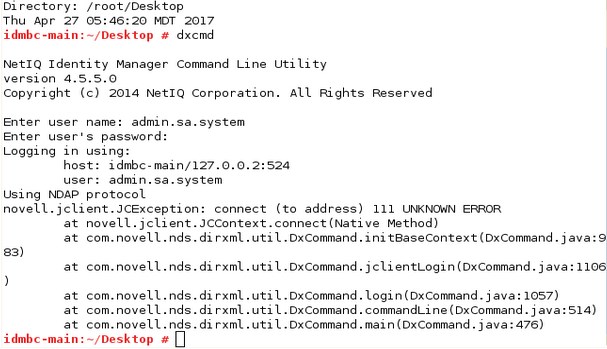 Resolution
Please follow the steps below to properly configure the /etc/hosts so that dxcmd will run successfully:
From a terminal session on the server that is experiencing the 111 Uknown Error, edit the /etc/hosts file.
Note: Please make a backup of the /etc/hosts file.


Check and see if there is a line that has the ip address of: 127.0.0.2. If this line exists, please remove that line and save the file.


Proceed to run the dxcmd command, which should now authenticate successfully.

Additional Information