Environment
PlateSpin Migrate 12.x
Source server is MS Cluster 2008 R2
Target machine on vSphere with shared data on Raw Device Mapping disk

Situation
After the migration of a MS Cluster 2008 R2 completes, on the target Virtual Machine the Cluster Service does not work.
Some errors can be seen in the Cluster Failover Manager, such as:
"Cluster service failed to update the cluster configuration data on the witness resource. Please ensure that the witness resource is online and accessible."





In the Windows Service Manager, the Cluster Service does not start automatically: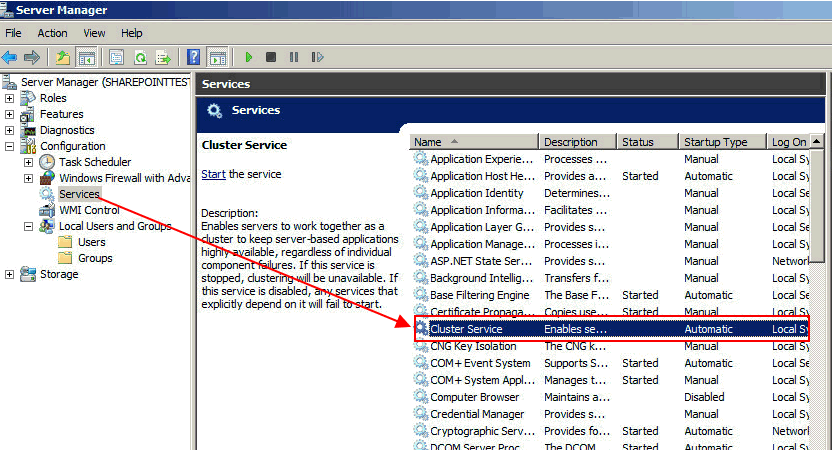 The Windows Event logs "System" displays the below message:
"The Cluster Service service terminated with service-specific error The device is not ready for use."
Resolution
A possible way to resolve the issue is to perform the below steps:

1. Remove the Witness Disk from the cluster, format the Witness Disk and re- add it to the cluster.

2. Install the following Hot fixes from Microsoft:

433044_intl_64.zip.exe
443176_intl_64.zip.exe
447275_intl_64.zip.exe
455815_intl_64.zip.exe
466137_intl_64.zip.exe
480162_intl_64.zip.exe
481771_intl_64.zip.exe

3. Then, perform the below items:

- From Device Manager/Network adapters, click on View -> Show hidden devices, then uninstall "Microsoft Failover Cluster Virtual Adapter".
- Reboot the server for changes to take effect .
- After reboot, open the Device Manager -> Network adapters.
- From Action Menu select "Add Legacy Hardware" and then click Next.
- Select "Install the Hardware that I manually selected from a list (Advanced)" and click Next.
- Select "Network Adapters" and click Next.
- Select "Microsoft" From the left pane and select "Microsoft Failover Cluster Virtual Adapter" from the right list.
- Once the Adapter is added successfully, start started the Cluster Service.
- Reboot the server.

If the issue persists, contact Microsoft Support for further assistance.