Environment
Novell Open Enterprise Server 11 (OES 11) Linux
Novell Open Enterprise Server 2015 (OES 2015) Linux

Situation
Where to find volume compression information in OES.

Resolution
iManager
Roles and Tasks > Storage > Volumes > [select server] > [highlight volume] > Properties > Statistics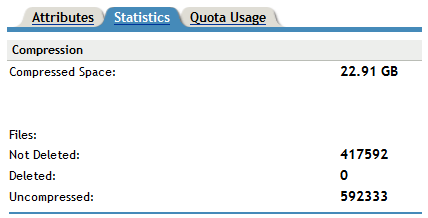 nssmu
volumes > [highlight volume] > press 'c'
Example:
NSS Compression Statistics
General Statistics
Last compression ratio: 23
Average compression ratio: 59
Used compression activites 0
Used decompression activites: 0
Num of enqueued regular compression activities: 0
Num of enqueued background compression activites: 0
Volume Statistics for VOL09
Total compressed files: 436085
Total compressed deleted Files: 243
Total uncompressible files: 762119
VolumeInfo
This file contains information about each individual volume, including compression details.
Using VOL09 as an example volume: /_admin/Manage_NSS/Volume/VOL09/VolumeInfo.xml
<preCompressionBytes>84698701824 (78.88 GB)</preCompressionBytes>
<compressedBytes>23399567360 (21.79 GB)</compressedBytes>
<compressedDeletedFiles>0</compressedDeletedFiles>
<uncompressibleFiles>593366</uncompressibleFiles>
CompressionStats
This file contains compression statistics for all volumes on the server.
/_admin/Manage_NSS/CompressionStats.xml
<generalStats>
<lastCompressionRatio>23</lastCompressionRatio>
<aveCompRatio>59</aveCompRatio>
<numQueuedCompReqs>0</numQueuedCompReqs>
<numQueuedBGCompReqs>0</numQueuedBGCompReqs>
<usedCompActivity>0</usedCompActivity>
<usedDecompActivity>0</usedDecompActivity>
</generalStats>
<currentActivity>
</currentActivity>
<volumeCompressionInfo>
<volume>
<volumeName>VOL09</volumeName>
<compressedFiles>435845</compressedFiles>
<compressedDeletedFiles>243</compressedDeletedFiles>
<uncompressibleFiles>762142</uncompressibleFiles>
<preCompressionBytes>119232413696</preCompressionBytes>
<compressedBytes>30426959872</compressedBytes>
</volume>
</volumeCompressionInfo>
space saved = preCompressionBytes - compressedBytes
percentage of space saved = ((preCompressionBytes - compressedBytes)/preCompressionBytes) * 100