Environment
Novell ZENworks Configuration Management 11 Imaging

Situation
Zone configured with Satellite that has Imaging Role
PXE Boot device
Display shows "Imaging License is not Valid" and will not continue further.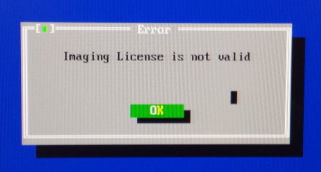 Resolution
In this case check/resolve network (LAN) communication issue between Satellite and Primary server.
Turned off/modified Kaspersky antivirus configuration on the failing Satellite servers and ZENworks PXE Boot working as designed.
Cause
Network communications dropping packets between Primary and Satellite server.
Kaspersky antivirus on Satellite server was blocking communication.





Additional Information
========== Log analysis ===========
From the initial part of novell-pbserv logs of satellite server, following logs are observed many times(50+ times)
These log entries clearly indicate a connection error in SSL.
---------------------------------------------
[DEBUG] [04/22/2016 14:17:19.000] [3912] [pbserv] [4644] [] [pbserv] [][(ZENIMGWEB-CSCKT) socket_connect unable to connect: SSL_connect 
error 1.] [][] [] [Imaging]
[DEBUG] [04/22/2016 14:17:19.000] [3912] [pbserv] [4644] [] [pbserv] [][Dumping SSL error queue.] [] [] [] [Imaging]
[DEBUG] [04/22/2016 14:17:19.000] [3912] [pbserv] [4644] [] [pbserv] [][(ZENIMGWEB-CSCKT) Failed to connect to ZCM server 10.102.0.165 at 
port 443. Error code: 15. SSL connect error.] [] [] [] [Imaging]
--------------------------------
Whereas in the later parts of the logs provided it is clear that Imaging License info received is not consistent and is changing randomly within seconds.(clear 
from time stamp)
--------------------------------
[DEBUG] [04/26/2016 11:23:36.000] [1920] [pbserv] [1952] [] [pbserv] [] [(RNT)Imaging License Info:  0] [] [] [] [Imaging]
[DEBUG] [04/26/2016 11:23:36.000] [1920] [pbserv] [1952] [] [pbserv] [] [(RNT)Imaging License Info:  1] [] [] [] [Imaging]
[DEBUG] [04/26/2016 11:37:17.000] [1632] [pbserv] [4104] [] [pbserv] [] [(RNT)Imaging License Info:  0] [] [] [] [Imaging]
[DEBUG] [04/26/2016 11:37:17.000] [1632] [pbserv] [4104] [] [pbserv] [] [(RNT)Imaging License Info:  1] [] [] [] [Imaging]
[DEBUG] [04/26/2016 11:42:19.000] [2688] [pbserv] [920] [] [pbserv] [] [(RNT)Imaging License Info:  0] [] [] [] [Imaging]
[DEBUG] [04/26/2016 11:42:19.000] [2688] [pbserv] [920] [] [pbserv] [] [(RNT)Imaging License Info:  1] [] [] [] [Imaging]
[DEBUG] [04/26/2016 11:42:33.000] [2688] [pbserv] [920] [] [pbserv] [] [(RNT)Imaging License Info:  0] [] [] [] [Imaging]
[DEBUG] [04/26/2016 11:42:33.000] [2688] [pbserv] [920] [] [pbserv] [] [(RNT)Imaging License Info:  1] [] [] [] [Imaging]