Environment
Novell ZENworks Configuration Management 11.4 Bundles
Novell ZENworks Configuration Management 11.3 Bundles

Novell ZENworks Configuration Management 11.2 Bundles
Novell ZENworks Patch Management 11.4
Novell ZENworks Patch Management 11.3
Novell ZENworks Patch Management 11.2
Microsoft Windows Agent device
Situation
The active window loses focus while typing
The Enter key is pressed
A blank command prompt pops up for ZenWindowsDaemon.exe
The following could be seen on the agent device: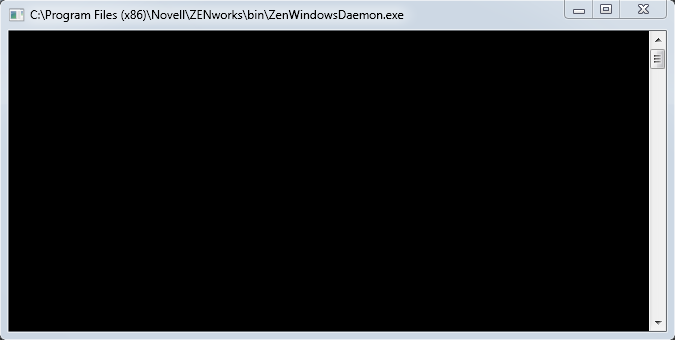 The full title of the command prompt is:
C:\Program Files (x86)\Novell\ZENworks\bin\ZenWindowsDaemon.exe
NOTE: This path would be different for a different ZENworks agent installation path.
Resolution
Workaround

This command prompt can be ignored. After it pops up, it should go away by itself.

Cause
This happens when the Enter key is pressed while ZENworks launches ZenWindowsDaemon.exe. This command prompt normally starts in the background. Pressing the Enter key after the current window loses focus makes the command prompt visible.

Status
Reported to Engineering