Environment

Windows 2008 R2
NetIQ eDirectory for Windows

Situation
C:\NOVELL\NDS\DIBFILES\CONFIG.ACS was modified and the [NCP Engine/Transports/Enum] and [NCP Engine/Transports/Enum/00#] lines were deleted.
IP address of Windows 2008 R2 host interface was modified to the new address.
When server is restarted, eDirectory and iMonitor are listening on the interface as reported by netstat but NetIQ eDirectory Services shows the Agent is closed: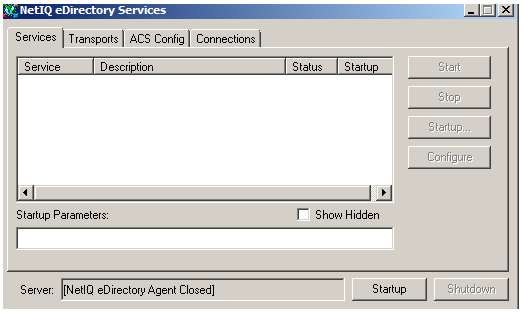 Resolution
The C:\WINDOWS\SYSTEM32\DRIVERS\ETC\HOSTS file still contained the original ipaddress.

After modifying the ipaddress to reflect the new address being used by the interface, the Agent how showed open.