Environment
Novell ZENworks Configuration Management 11.3.1 System Update
Novell ZENworks Configuration Management 11.3.2 System Update
Microsoft Windows Agent Devices

Situation
Upgrading to ZENworks 11.3.1 or 11.3.2 with a standalone upgrade package
An error pop up is shown at approximately 14% progress
The following pop up is seen: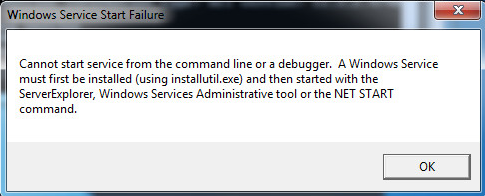 The following message is seen in the pop up window:
ERROR:
Windows Service Start Failure
Cannot start service from the command line or a debugger. A Windows Service must first be installed (using installutil.exe) and then started with the ServerExplorer, Windows Services Administrative tool or the NET START command.
Resolution
This error message can be considered cosmetic.
The error does not cause a problem with the upgrade.
The error will not prevent an unattended upgrade.

Status
Reported to Engineering