Environment
NetIQ Identity Manager 4.0.1
NetIQ Identity Manager 4.0.2
NetIQ Identity Manager Roles Based Provisioning Module 4.0.1
NetIQ Identity Manager Roles Based Provisioning Module 4.0.2

Situation
An error: "requestList: An error has occured retrieving the request list:: Invalid locale code: DEde" shows up in red when opening "Request Status" list in NetiQ Identity Manager UserApplication for a user.
Opening "Role Assignments" won't finish building a list.
Resolution
Edit the attributes nrfLocalizedNames or nrfLocalizedDescrs on the role and correct the value.

Cause
Attribute
nrfLocalizedNames
or
nrfLocalizedDescrs
on an role object has an illegal value for local code.
Novell iMonitor view: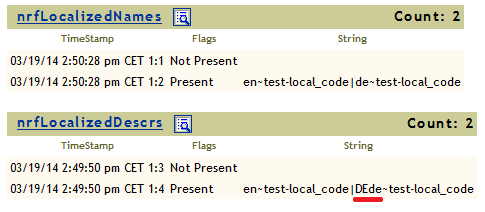 Additional Information
The role object has been created via a scripted import where a typo in the source file cause the illegal value.