Environment
Novell ZENworks Configuration Management 11.x Imaging
Microsoft Windows 7

Situation
The following error is seen after restoring an image:
ERROR:
Error
Unable to update the SID of the device. Restore the image of the device again. If the problem persists, disable the SIDchanger.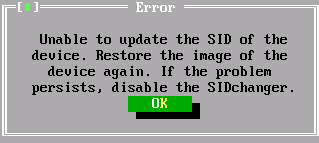 The following is seen in the sidChange.log created after restoring the image:
NOTE: Please see the Imaging section of
TID 3418069
for information on gathering the sidChange.log
CHANGING BCD
Partition number where Windows OS(Boot Partition) is installed : 0
Could not open BCD Hive file at partition: 0
Active Partition(System Partition) is not installed on partition 0 and is installed on partition 0:
Could not open BCD Hive file at partition: 0
Not able to open BCD hive file in Windows Partition(Now trying on Different Partitions)
Could not find any Active Partition where BCD resides
Could not open the registry hive file
Resolution
Make the image again and include the 100 MB Windows boot/restore partition in the new image.
Possible steps to prevent needing to completely re-make the image from scratch:
Start with a machine known to have a working boot partition
Boot to ZENworks Imaging Maintenance Mode either through PXE or the bootcd.iso
Enter the command: img
Select Restore Image
Select Server and then Next
Enter the Path to image archive
Select Specify Advanced Options and then Next
Select Modify Disk Partitions to open the Modify Physical Partitions dialog
Leaving the 100 MB active partition, select and then delete the others
Create suitably sized disk partitions for the partitions on the image

Select Done
In the Image Partitions section, select the second Not assigned line
Select Add Assignment and add the first Available Image Partition
Repeat the last two steps to assign the rest of the Image Partitions (Leaving the first as Not assigned)
Select Next to start the imaging process
When the imaging process is finished, verify that the device boots properly
Re-run SYSPREP and make an image that includes all the partitions on the device
NOTE: This process may or may not work. If it does, it will save some time in re-making a working image.
Cause
In this case, an image was made that didn't include the Windows boot/restore partition. The BCD (Boot Configuration Data) was not found because it wasn't part of the image that was restored.