Environment

Novell ZENworks Mobile Management 2.80

Situation
When attempting to update ZMM to version 2.8.1, the update fails. Here is a screen shot of what is seen: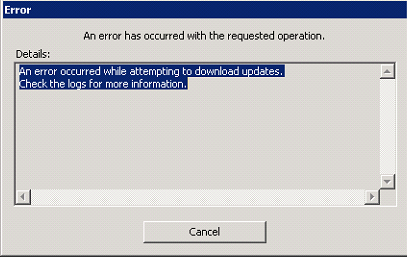 When looking in the update_log file, the following is seen:
CDownloadUpdatesDlg: Failed to download updates. Cause: Error downloading update(s):
Could not recognize the ZENworks Mobile Management version number. Please contact Tech Support.
Resolution
Version 2.8.1 of ZENworks Mobile Management was removed due to some problems. Please wait and update to version 2.8.2 when it is released.
Cause
The update was removed due to some problems within the update. Because it was removed it will cause problems if the download is attempted.