Environment
Novell Service Desk

Situation
Having difficulties getting email notifications for Novell Service Desk Incidents and Requests working.
Resolution
The NSD Email sub-menu option is used to configure the system's incoming and outgoing email settings.
The system uses email to notify Customers about:
Login information
Newly created requests
Progress
Closure
Contract renewals
Invoices due
Purchase Orders created.
Emails notify Service Desk Users of:
Request allocation
Escalations
Amendments to requests made by other Users
Addition or removal of requests from Groups.
Server Tab
To enter email server details:
Select Setup > Email > Server
Enter the Receiving and Sending Details:
Receiving

Incoming Server

The incoming server used by the system to receive emails.

Protocol

The protocol of the incoming email account- IMAP, IMAPS, POP3, POP3S.

Transport

This option is visible if IMAP or POP3 has been set for the email account protocol. Select to secure the transport layer to encrypt the whole channel, if relevant to your email server configuration.

Port

Can be left blank for the default, or enter a port.

Interval

Enter a timing interval if polling is enabled.

This will be the period of time the system will use to check if any messages need to be polled.

User Name

Enter User Name for the incoming mail server.

Password

Enter the account Password.

Sending

Reply To

The default system email address and the account that the email polling feature uses.

Outgoing Server

The outgoing (or SMTP) server used by the system to send emails.

Authentication

If your SMTP server requires sender identification before sending email select between Login, SSL or TLS depending on the server configuration. The User Name and Password fields will be displayed when options other than None are selected.

Port

Enter a different port, or leave blank to use the default.

User Name

Enter the SMTP authorization details.

Password

Enter the account password.
Click Save.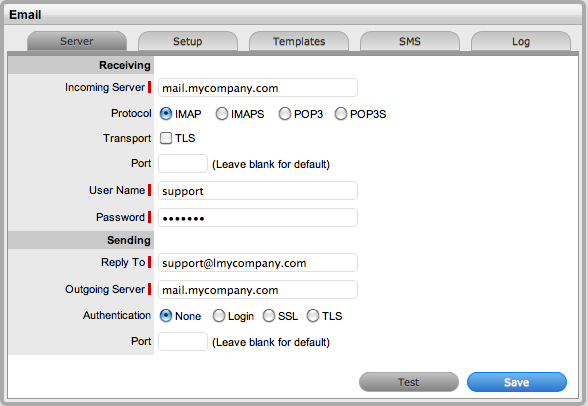 Test Button
To test if the email configuration is correct for sending email, click Test. This will send a message to the Administrator, using the Outgoing Server details that have been provided.
Additional Information
Note: When configuring outgoing email connections, the service provider must allow connections from an external IP when sending email. This is important if Novell Service Desk Support is mounted outside the organizations own network. To solve this make sure the SMTP server is able to accept authenticated connections from foriegn IP's or use a different SMTP server.

Formerly known as 1000003