Environment
Novell Service Desk 6.5

Situation
How to Create and Configuring Escalation Layers in Novell Service Desk

Resolution
Creating and Configuring Additional Escalation Layers
Additional escalation levels can be created. The order of the escalation pathway is determined by the order of creation. That is, layer one is entry level support, layer two is the next level of support and so on.
From within the NSD Web Console, Select User > Teams > Escalation
Click Edit to display the New button. (The Technicians who are assigned to the Team are displayed in the Available Technicians list)
Add and/or remove Technicians from the Escalation Layer Members list
Click Save.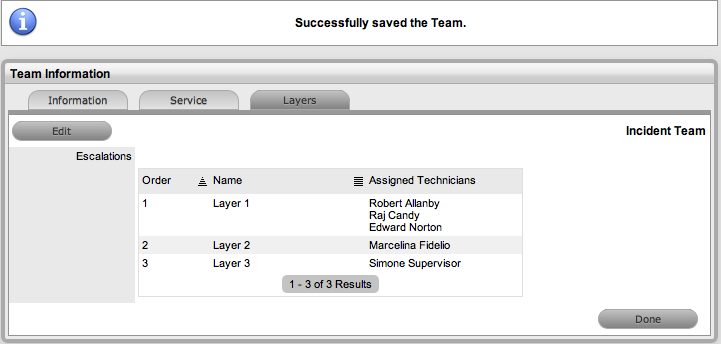 Editing an Escalation Layer
To edit an Escalation Layer:
Click on the layer name hyperlink to display the list of available and assigned Technicians
Remove and add Technicians as required
Select Save
Configuration of Escalation Layers
The following process is recommended for configuring Escalation Layers. Level one should contain the majority of Available Technicians who have been assigned to the Team. A smaller but more experienced group should be assigned to the second level. An even smaller and more experienced group should be assigned to the third level and so on until the final level of escalation. Ideally, the last layer should contain only the Team's Lead Technician. There are no constraints to prevent individual Technicians from being assigned to more than one level.
To remove a User from a Team:
In the User Tab, click Users. (The User Information screen appears.)
Click on the name of the User.
Select the Team Tab.
Click on Edit. (The Remove button is displayed.)
Select the check box to the left of the Team Name. (Multiple check boxes can be selected.)
Select Remove to delete the User from a Team. (The User Name is removed from the Team.)
Click Done.
Additional Information
Formerly known as 10051