Environment
Situation
ERROR: "The PGP preferences file has been corrupted. Contact your security Administrator for a New copy"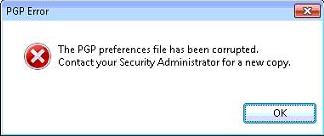 Resolution
Resolution
Stop the PGP services by clicking the PGP Tray icon in the tray, then select Exit PGP service.

Delete the PGP Corporation folder from the following folder:

Windows 2000,XP, Server 2003
Documents and Settings\%USERNAME%\Application Data\

Windows Vista
:\Users\%USERNAME%\AppData\Roaming\PGP Corporation\PGP

Open PGP Desktop by clicking Start | All Programs | PGP Desktop. This restart the PGP Enrollment Assistant. if the problem persist confirm the status of the server & that you have connectivity to the PGP Universal Server.