Environment
Novell iManager
Novell iManager Plugins - File and Folder
Novell Open Enterprise Server 2 (OES 2) Linux
Novell Open Enterprise Server (NetWare 6.5)

Situation
When going through iManager to manage trustee assignment:
files and folders
properties
select file/directory
"Rights" tab in left pane
you may find that iManager will not display anything (and appear to hang) or received a -625 error: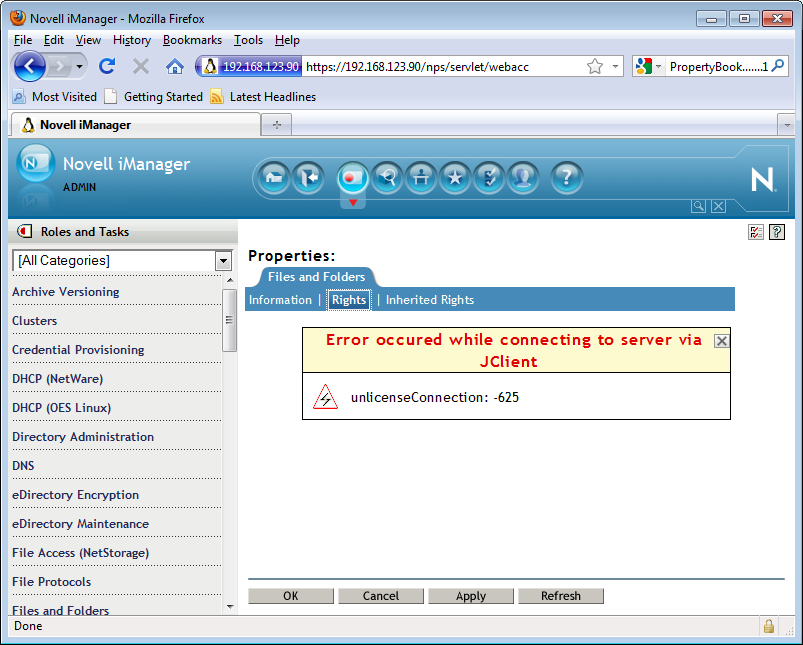 Resolution
This issue has been reported to Novell Engineering.
Some workarounds include:

a) if the file system/volume is on the NetWare kernel, use Novell Remote Manager
b) if the NSS file system is on the NetWare or Linux kernels, try one of the following:
- use ConsoleOne *
- use NWAdmn32 *
(*Note: Both of these utilities are out of support so their usage should be limited to just the necessary directories and rights function).

Additional Information
In testing, it does appear in iManager that you can add trustee assignments to a file/directory beyond 20. However, once you exceed 20, you will not be able to display rights assigned to that file/directory via iManager -- therefore, you cannot remove nor add any trustee assignments.
You may also see the following in the catalina.out file:
Task................444 Starting task 'fileman.DirectoryBook':
FileManagerUtils.....55 resolved to volume ..trying to authenticate......
FileManagerUtils.....57 authenticate.....DONE....
FileManagerUtils.....64 -----servername:read Entry----------<server.context>
PropertyBook.......1582 unlicenseConnection: -625
PropertyBook.......1582 unlicenseConnection: -625
com.novell.emframe.dev.PageException: unlicenseConnection: -625
at com.novell.plugins.FileManagerPropertyBookPages.show(FileManagerPropertyBookPages.java:92)
at com.novell.emframe.dev.PropertyBook.showPage(PropertyBook.java:1213)
at com.novell.emframe.dev.PropertyBook.doShow(PropertyBook.java:943)
at com.novell.plugins.FileManagerPropertyBook.doShow(FileManagerPropertyBook.java:62)
at com.novell.emframe.dev.PropertyBook.execute(PropertyBook.java:154)
at com.novell.emframe.dev.Task.execute(Task.java:505)
at com.novell.nps.gadgetManager.BaseGadgetInstance.processRequest(BaseGadgetInstance.java:858)
at com.novell.nps.gadgetManager.BaseGadgetInstance.handleAction(BaseGadgetInstance.java:2384)
at com.novell.nps.gadgetManager.GadgetManager.processInstanceRequest(GadgetManager.java:1606)
at com.novell.nps.gadgetManager.GadgetManager.processServiceRequest(GadgetManager.java:1062)
at com.novell.nps.PortalServlet.handleFrameService(PortalServlet.java:505)
at com.novell.nps.PortalServlet.processRequest(PortalServlet.java:373)
at com.novell.nps.PortalServlet.doPost(PortalServlet.java:279)
at javax.servlet.http.HttpServlet.service(HttpServlet.java:763)
at com.novell.emframe.fw.servlet.AuthenticatorServlet.service(AuthenticatorServlet.java:332)
at javax.servlet.http.HttpServlet.service(HttpServlet.java:856)
at org.apache.catalina.core.ApplicationFilterChain.internalDoFilter(ApplicationFilterChain.java:269)
at org.apache.catalina.core.ApplicationFilterChain.doFilter(ApplicationFilterChain.java:188)
at com.novell.emframe.fw.filter.CrossScriptingFilter.doFilter(CrossScriptingFilter.java:25)
at org.apache.catalina.core.ApplicationFilterChain.internalDoFilter(ApplicationFilterChain.java:215)
at org.apache.catalina.core.ApplicationFilterChain.doFilter(ApplicationFilterChain.java:188)
at org.apache.catalina.core.StandardWrapperValve.invoke(StandardWrapperValve.java:213)
at org.apache.catalina.core.StandardContextValve.invoke(StandardContextValve.java:172)
at org.apache.catalina.authenticator.AuthenticatorBase.invoke(AuthenticatorBase.java:530)
at org.apache.catalina.core.StandardHostValve.invoke(StandardHostValve.java:127)
at org.apache.catalina.valves.ErrorReportValve.invoke(ErrorReportValve.java:117)
at org.apache.catalina.core.StandardEngineValve.invoke(StandardEngineValve.java:108)
at org.apache.catalina.connector.CoyoteAdapter.service(CoyoteAdapter.java:174)
at org.apache.jk.server.JkCoyoteHandler.invoke(JkCoyoteHandler.java:200)
at org.apache.jk.common.HandlerRequest.invoke(HandlerRequest.java:291)
at org.apache.jk.common.ChannelSocket.invoke(ChannelSocket.java:775)
at org.apache.jk.common.ChannelSocket.processConnection(ChannelSocket.java:704)
at org.apache.jk.common.ChannelSocket$SocketConnection.runIt(ChannelSocket.java:897)
at org.apache.tomcat.util.threads.ThreadPool$ControlRunnable.run(ThreadPool.java:689)
at java.lang.Thread.run(Thread.java:811)
Task................658 <?xml version="1.0" encoding="UTF-8"?><com.novell.plugins.FileManagerPropertyBook/>
BaseGadgetInstance..623 JSP: fw/ErrorPage.jsp -> /portal/modules/fw/skins/default/devices/default/ErrorPage.jsp