Environment
AppManager
AppManager UNIX
Situation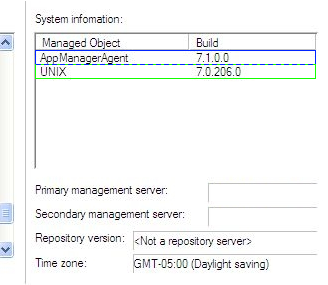 While looking in my operator console at my UNIX system, the
AppManagerAgent
version (blue) is different then the
UNIX
version (green). What causes this?
Resolution
Run the Discovery_UNIX knowledge script on the newly upgraded machine.
Cause
The
AppManagerAgent
version is the current agent version seen in the last heartbeat (the UNIX agent includes its version information in each xml heartbeat it makes to the Management Server). The
UNIX
version is the last discovered UNIX agent version.
In the example above, the UNIX agent was upgraded from 7.0.1 to 7.1 and a new discovery was never run, thus the last hartbeat seen has a newer version then the last discovered version.
Additional Information
For additional information on AppManager UNIX Agent versions, see KB
7007932