Environment
Novell Client 2 for Windows SP2 IR2a
Situation
Login scripts do not run after upgrade from Novell Client 2 SP1 IR9a to SP2 IR2a
Login scripts run fine with Novell Client 2 SP1 for Windows IR9a, don't run at all after upgrade.

Resolution
Two possible causes for this problem have been identified. There are therefore two possible solutions:
1. Upgrade to Novell Client 2 IR3 or later. IR3 includes a fix addressing one of the causes.
2. Uncheck the "Clear current connections" box on the "eDirectory" tab of the Novell Client login.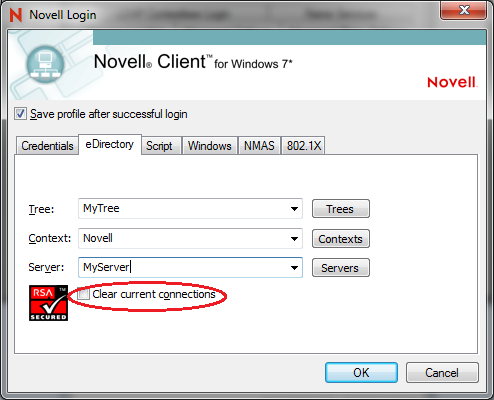 Additional Information
The "Clear Connections" checkbox is enabled on the "eDirectory" tab of the Novell Client login by setting "Clear Connections" to "On" in the "Advanced Login" tab of the Novell Client Properties. It can be set for all workstation users by modifying the "Default" profile from the "System Login Profiles" tab in properties of the Novell Client. It can also be set direectly in the registry by modifying the following registry key:
HKEY_LOCAL_MACHINE\SOFTWARE\Novell\Login\Profiles\System\Default\Tab1
DWORD "Clear Connections" (no quotes needed) 0 =unchecked 1=checked