Environment
Novell ZENworks 10 Configuration Management with Support Pack 3 - 10.3
Situation
What are the possible options when upgrading from ZCM 10.x to ZCM 11.x?
Resolution
Upgrading to ZCM 11 requires that all Primary servers are running ZCM 10.3.0 or ZCM 10.3.1
Once ZCM 10.3.2 has been applied to any server in the zone, it will not be possible to upgrade to the first release of ZENworks 11 (ZCM 11.0.0) - in this case it will be necessary to wait until ZCM 11.1 is released (there is not yet an announced timeframe for this); upgrading from ZCM 10.3.2 to ZCM 11.1 will be permitted.
If the ZCM 10.3.2 upgrade is applied to a zone, the ZCM 11 install process will halt with an explanation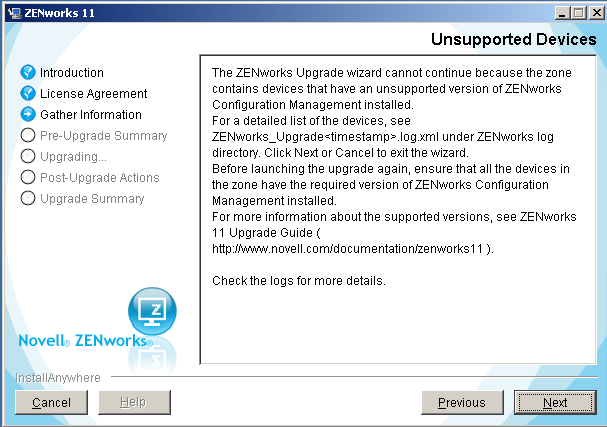 This message is displayed after the Next button has been clicked on the screen that checks that ZDC has been run against the schema.
Because of the different timings of the test cycles of ZCM 10.x and ZCM 11, there are some issues discovered in ZCM 10.x that will be fixed in ZCM 10.3.2, but not in ZCM 11.0 when first shipped -
KB 7006995
will be released at the same time as ZCM 11, and will contain a list of those issues discovered in ZCM 10.x that are fixed in ZCM 11.0. The contents of this TID should be taken into consideration whether to upgrade to ZCM 11.0, or to upgrade to ZCM 10.3.2, and wait for the release of ZCM 11.1 to upgrade.