Environment
Novell GroupWise 8
Novell GroupWise 8 Support Pack 1
Novell GroupWise 8 Support Pack 2
Novell GroupWise 2012
Situation
After renaming the GroupWise ID for a user, they are not able to access their mailbox. When they try to login, the user receives an error: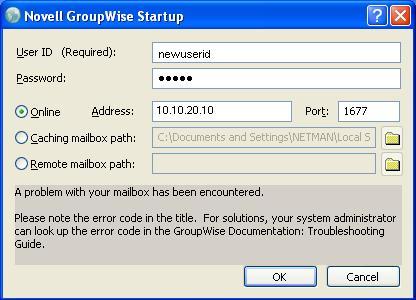 The POA log reports a Error: D115 "Security Breach." when the user tries to login.
When executing GWCHECK on the mailbox, an Error 44 is seen with the following verbiage:

Checking user = newuser (59p / 199) 13162496 bytes, 10/14/10 13:38 (NEW USER [My Department])
- Current time 1:40:47 pm
STRUCTURAL VERIFICATION of database Server\mailvol:\mypo1\ofuser\user59p.db
Verifying data
- Database is structurally consistent
Reducing database
Server\mailvol:\mypo1\
ofuser\user59p.db
1024 bytes reclaimed
CONTENTS VERIFICATION of database
Server\mailvol:\mypo1\
ofuser\user59p.db
- 6568 records found, last DRN = 188767
- checking Preference records
Error 44- Database user59p.db is invalid due to security breach!
- Verification USER_ID is "olduser", should be "newuser"
- Please try to recover correct database from backup
Resolution
The problem is caused by a mixup in the user's verification record in the user database.
GWCheck needs to be run on this user with the following options:
1) Enter the post office name and path.
2) Select Analyze/Fix Databases.
3) For the Object Type select user and put the user's name in.
4) On the Databases tab select only the user database.
5) On the MISC tab enter VRFIXUP.
The VRFIXUP option is for fixing up incorrect or old user id's in the verification record.
Additional Information
This particular issue is encountered when there is contention for the particular userXXX.db file. For example, if file backup application is backing up the file at the same time the name change is occurring, the name change will probably not complete correctly.
To identify you have this issue, review the post office log. If the rename/move has failed, you will see something like:
16:30:57 31A (.Move) Initiating: olduser (59p)
16:30:57 31A The database facility reported error [8201] on user59p.db
However, for a successful rename (which is really a user move), you will see something like:
16:53:47 337 (.Move) Initiating: olduser (59p)
16:53:47 337 (Move.) Performing Rename To: newuser (59p)