Environment
Novell Open Enterprise Server 2 (OES 2) Linux Support Pack 2
Novell iManager 2.7

Situation
The email address does not stick while configuring the email address for cluster event notification using iManager.
After the setting is applied, it acts like it's setting the email address but when refreshed you only see "undefined" in the email address field.
Changing the event notification type does not change from default of "Verbose Messages" using iManager mobile.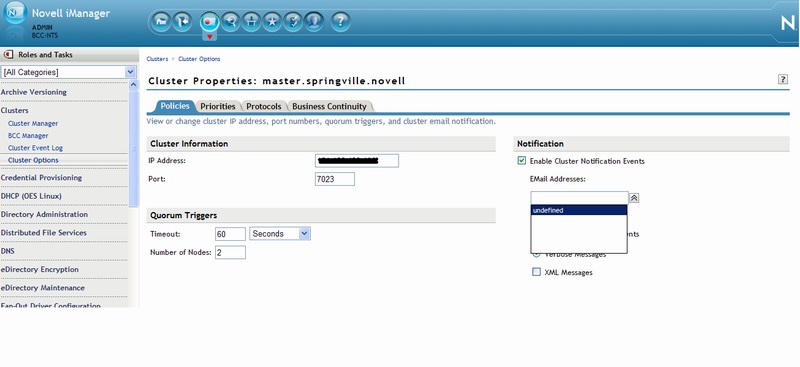 Resolution
Solution:
The problem has been addressed in the latest novell-plugin-cluster-services-3.3.303-0.5.*.rpm. Install the latest plugin from iManager.
1. Go to "Configure" button in iManager.
2. Go to "Plug-in Installation", then "Available Novell Plug-in Modules".
3. Check for "Cluster Services Management Plugin" version 3.3.0.20101215. If it's not available, check to see if it has already been installed in the "Installed Plug-in Modules" link.
4. Mark the check box next to the plug-in, and then click "Install".
5. Once it is installed, delete the /var/opt/novell/tomcat5/work/Catalina/localhost/nps directory and restart Tomcat5 (rcnovell-tomcat5 restart).
You should now be able to add and remove email addresses from the cluster properties page.
Additional Information