Environment
Novell ZENworks Patch Management 6.4 service pack 2 (ZPM)
Microsoft Windows Server
Microsoft Internet Information Services (IIS)
ASP .NET 2.0

Situation
After upgrading to ZPM 6.4 sp2 various problems are seen, but no specific errors are logged. Problems include:
Deployments show as not working
New agents show in console but do not show as communicating after install
Agents show as offline
Package subscriptions show as state false
Agents show ZPM server as unknown
Resolution
ZPM 6.4 sp2 requires .NET 2.0 to be set in the IIS configuration.
Ensure .NET 2.0 is installed on the ZPM server.
The .NET version within IIS can be selected as follows:
My Computer > Manage
Services and Application > IIS Manager > Web Sites
Novell ZENworks Patch Management Server > AgentCenter > [right-click]> Properties
ASP .NET tab > ASP .NET version > [select version 2.x]
Restart server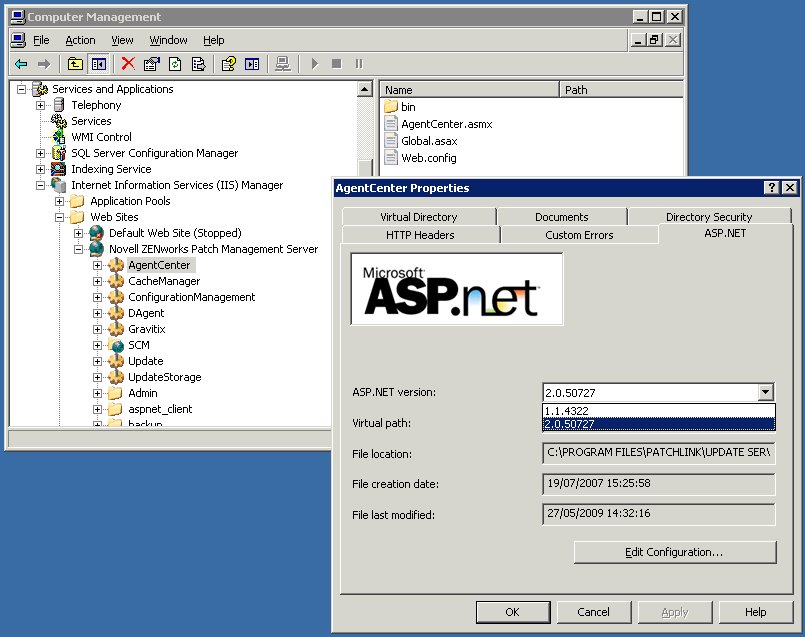 Additional Information