Environment
Novell Identity Manager iManager Plug-ins
Situation
When trying to view the Password Synchronization parameters for an eDirectory driver the below java error occurs.
javax.servlet.jsp.JspException: The reference to entity "T.Mountain" must end with the ';' delimiter.
This error can be seen from the Password Synchronization task under Passwords in the Identity Manager Administration view in iManager, (Figure 1) and when clicking the Server Variables tab under the properties of the eDirectory Driver. (Figure 2)
The issue seems to be caused by a '&' in the server objects container. Example: The server resides in the OU=IS&T.O=Mountain container.
Figure 1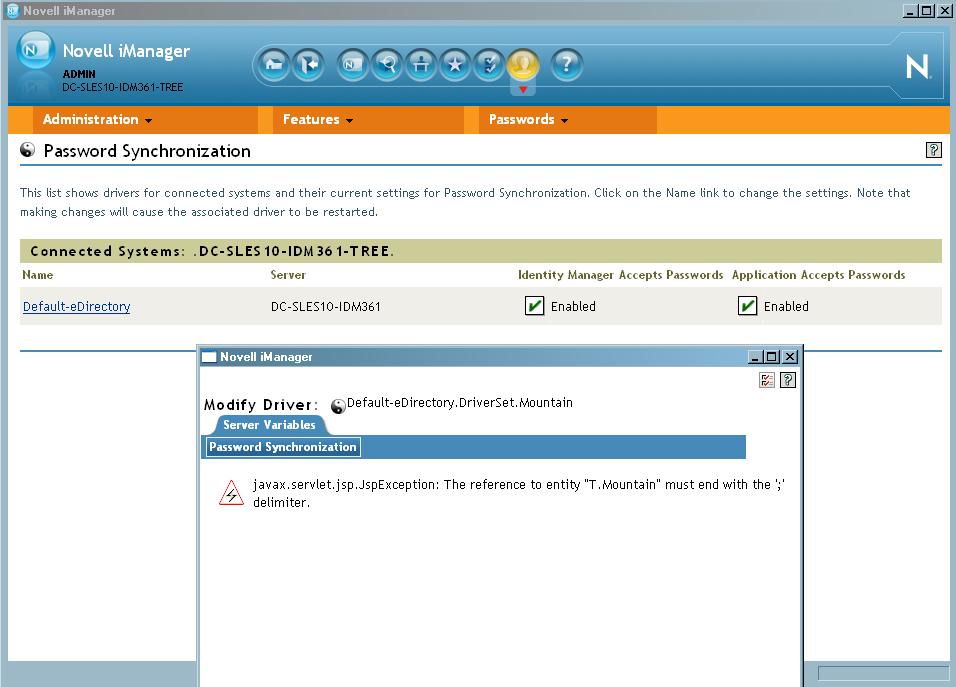 Figure 2

iManager 2.7.3 running the IDM Password synchronization and IDM plugin versions: 10.7.20090520
Resolution
Workarounds:
1. Use Designer to update the password synchronization settings. Designer 3.0.1 does not have any problems updating the password synchronization settings with an '&' in the OU name.
2. Rename the OU where the server object assigned to the IDM Driver set resides.
Additional Information
This issue has been reported to Novell Engineering.