Environment
Novell Open Enterprise Server 2 (OES 2) Linux
Novell Open Enterprise Server (NetWare 6.5)
Novell Storage Services (NSS)

Situation
The NSS compression screen can be helpful in troubleshooting compression related issues. It can also be used to see general compression statistics on a volume.

Resolution
NetWare:
Command: NSS /COMPSCREEN
This enables a separate screen which shows compression statistics for the entire server.
OES 2 SP1 - Linux
NSSMU --> Volumes --> F8 = More options --> F8 again --> F6 = Compression Statistics.
This shows NSS compression statistics for volume selected.
Note: If you want to see compression stats for ALL of the volumes (for which compression is enabled) you can even do a 'cat' on /_admin/Manage_NSS/CompressionStats.xml. It will show you the stats at that point of time.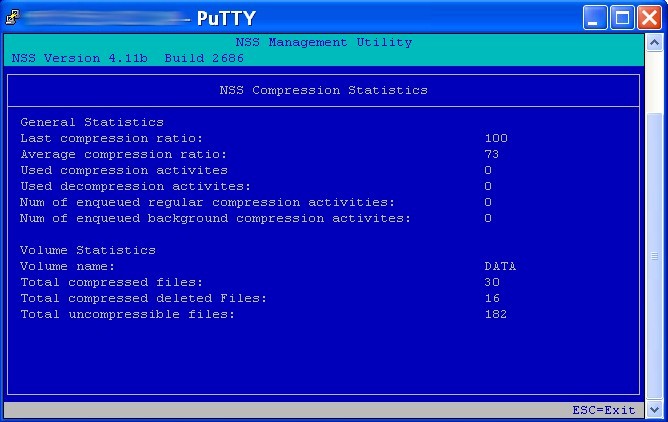 Additional Information