Environment
Novell eDirectory 8.8 SP5 for Solaris
Novell eDirectory 8.8 SP5 for Linux
Novell eDirectory 8.8 SP5 for AIX
Situation
The following errors may be seen when upgrading from eDirectory 8.7.3 to eDirectory 8.8 SP5 64 bit on the Linux\Unix platforms after the prompt to upgrade the DIB:
1. ndscheck: error while loading shared libraries: libntls.so.2: cannot open shared object file: No such file or directory

2. %%% ERROR 127: Insufficient space for performing DIB upgrade. Exiting upgrade...
Below is a screenshot: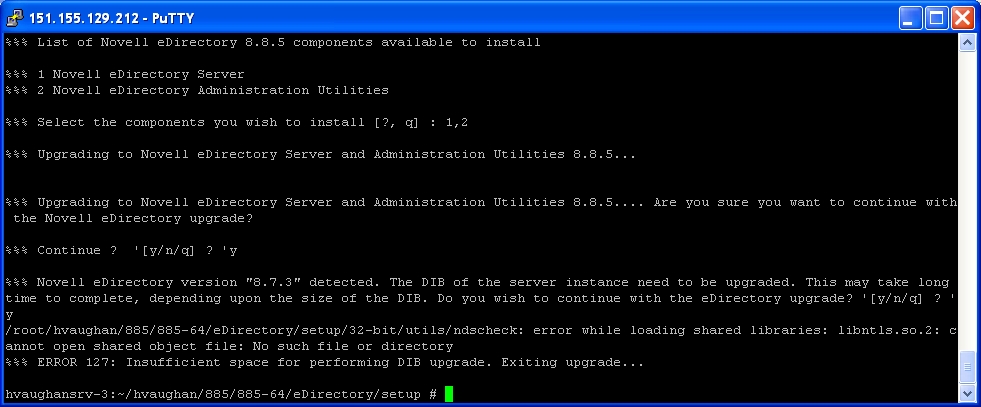 \
Resolution
1. The shared library error indicates that the minimum required Security Services Support Pack is not installed. Simply apply the latest security patch for eDirectoey 8.7.3. This can be found here:
2. The Insufficient Space error indicates that the version of eDirectory 8.7.3 is not at the required minimum Support pack for the upgrade. Install the latest one available.
- Go to:
https://download.novell.com/patch/finder/
- Put in the following as key words: " 8.7.3 SP10 " . To get the latest FTF for that version use the following key words: " 8.7.3 SP10 FTF2 ".
(At the time of this writing this was eDirectory 8.7.3 SP10 + 8.7.3 SP10 FTF2.)