Environment
Novell ZENworks 10 Configuration Management with Support Pack 1 - 10.1 Bundles

Situation
When setting an action to delete a registry key or value, if that key/value does not exist, the action fails with an error.
ERROR:
The operations specified in "" action could not be completed due to an error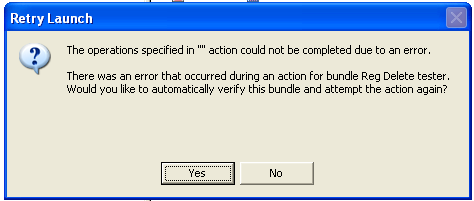 Resolution
This is fixed in version 10.2 - see
KB 7003225
"ZENworks 10 Configuration Management with SP2 (10.2)" which can be found at
https://www.novell.com/support
Workaround:
Mark the action "
Continue on Failure
"
Additional Information
The action is considered to have failed if any one of the changes fails: but if, for example, the action tries to delete two values, and the first one is missing, the second value will still be deleted correctly. Marking the action "
Continue on Failure
" allows the rest of the bundle to complete. Note that this means that other possible errors, such as a user not having permission to update a key, would be ignored as well.