Environment
Novell Identity Manager 3.5.1
NDS to NDS driver
eDirectory Driver
Situation
When trying to check the password (sync) status in iManager, it returns a 9006 error on certain drivers.
The passwords appear to be synchronizing but the -9006 error is returning trying to check the synchronization status.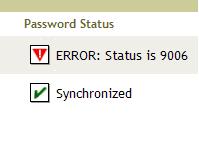 An IDM trace (Level 3) of the check password status, returns a -9046 error.
<status event-id="user-agent-check-password" level="error">Code(-9046) Invalid password specified for &lt;check-object-password>.</status>
The IDM engine is running on a SLES10 Linux server.
Search: 9046
Resolution
We found that the port IDM was using for synchronization between the eDirectory drivers, was allowed through the firewall on the IDM Vault side, but not on the Production Tree side.
After allowing the Port to flow through on both sides, the check password status returned the proper information without errors. The default port is 8090, but can be different depending upon how many drivers you are running and what you have set it to. Edit the properties of the driver and verify what port you are using.